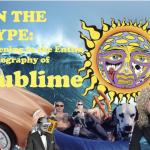 (Content Warning: Date rape, drug abuse, addiction)
If you have ever stepped foot onto a college campus, or just talked to a teenage white boy, you've probably heard of Sublime. Sublime was a ska-punk band that gained its peak popularity in the mid 90's. Unfortunately, in 1996, 28-year-old lead singer Bradley Nowell died in San Francisco of a heroin overdose just months before the release of Sublime's self-titled album that would eventually sell over 5 million copies. Today, their logo is found on hoodies, stickers, skateboards, and posters that adorn every stoner's basement. Throughout my young adult life and my exploration of music, I felt as though I could not escape the imagery of the Sublime sun logo. Everyone, from my older sister to the kid I used to try to skate with, was obsessed with this band. So here I am, all these years later, ready to listen.

Sublime is possibly one of the most renowned bands in the history of the genre of ska. For historical context, ska is typically thought of a precursor to reggae and is divided by music historians into three different periods. The first is the original Jamaican scene of the 1960s, then the 2 Tone ska revival of the late 1970s in Britain, which married Jamaican ska and punk rock, and finally the third wave of ska, which made waves in the United States, beginning in the 1980s and reaching a climax in the 1990s.
Growing up in Long Beach, California in the 80s, Nowell, along with drummer Bud Gaugh and bassist Eric Wilson, grew up during the golden era of ska's third wave. Long Beach in particular embraced this new wave of musical fusion, and this had a visible impact on the band that would eventually be known as Sublime. All three members recall an early love of the reggae music they were surrounded by at a young age. Nowell specifically developed a love for the music of reggae legend Bob Marley. This shared love amongst its members, along with influences in surf rock punk, and hip hop, eventually shaped Sublime's sound and helped them win over the hearts and wallets of party-goers in Orange County. The band took Long Beach's beloved ska and paired it with hard, fast, catchy (pop) punk that was starting to develop in the house scene of the 90s. Most of Sublime's early gigs were played in the basements and backyards where they eventually began to sell their first cassette, Jah Won't Pay Bills. It is in this party scene that Sublime first established their reputation of sex, drugs, and rock n' roll. Most of their early gigs were shut down by local authorities for noise and general rowdy-ness amongst the crowd. The band encouraged the audience to be as wild and reckless as they please, and often left venues in wild disarray. By 1991, booze, drugs, and anarchy were practically mandatory for a Sublime show.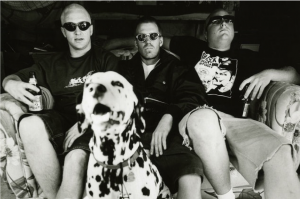 With donations from friends and family, 40oz. to Freedom was Sublime's first full-length studio album. I was interested to see how Sublime would translate their antics into a full-length album, and I was glad to hear it open with a simple and sweet song that recounts a house party love story entitled "Waiting for my Ruca". "Ruca" is a phrase that is used to describe the one romantic partner you love above all. For hard-core partiers, Sublime sure know how to show off their soft side. We were off to a good start (minus those flat harmonies, but I digress).
Sublime establishes its drug cred nice and early with "Smoke Two Joints", a cover of The Toyes original song of the same name (released in 1983), made famous by Bob Marley. There is no shortage of drug references in this album. From the more comic "Smoke Two Joints" to the slightly more worrying crack cocaine references in "Don't Push", Sublime are postmodern Beach Boys. To them, the street drugs and partying is just as prevalent as surfing to everyday life.
A highlight of this album was the song "We're Only Gonna Die (From Our Own Arrogance)". This made my punk heart happy. It begins as a good-vibes reggae song (credited to Bad Religion), and then thrashes in all the right places (it is the kind of song that makes me want to go to a show with all my best friends and get punched in the face). Musically, Nowell as a lead guitarist showed his talent for punchy riffs while also showcasing his fantastic technical abilities on this release. Drummer Bud Gaugh is talented in his own right, perfectly balancing the styles of the more delicate ska and reggae dance rhythms with the bold and courageous chaos of the punk genre they play with so masterfully. The crown jewel of Sublime has got to be bassist Eric Wilson. Ska and reggae bands are nothing without a talented and capable bassist on their side, and Sublime has that in Wilson. His impeccable riffs (some improvised!) hold this entire album together and gives the usually-chaotic ska some solid foundations to work off from. The album takes you through a night of partying and debauchery as well as the uncomfortable aftermath (i.e., "What Happened").
*Editor's note: The following two paragraphs contain lyrics about date rape.*
It is now that I must comment on this album's most popular song "Date Rape". This song gained fame when notable radio station KROQ began to play it four years after its release. The song itself recounts the story of, you guessed it, a date rape. The rapist is eventually tried and sent to jail, where he is in turn raped by an inmate. The song is graphic in content, and in a statement regarding the intent of the song, Nowell said:
"I've never raped anyone at least as far as I can remember. We were at a party a long time ago and we were all talking about how much date rape sucked. This guy was like, "Date rape isn't so bad; if it wasn't for date rape I'd never get laid." Everyone at the party was bummed out about it, but I was cracking up and I wrote a funny song about it."
The specific lines that people refer to when analyzing this song are: "Come on, babe, it's your lucky day/Shut your mouth, we're gonna do it my way/Come on, baby, don't be afraid/If it wasn't for date rape, I'd never get laid". Now, I know there is perceived culture of young people who are "offended by everything" according to those generations before us, but I do not think I am being unreasonable when I say that there is something inherently problematic about making date rape your punchline. To make a "funny song" about rape is not the best way to show your support for its victims. One could look to the somber and, to be fair, rather depressing song "Rape Me" by Nirvana for a better example of how to deal with such a delicate subject matter. The Nirvana song is written from the victim's perspective, and does not make a joke of the matter, but rather showcases the gut wrenching reality of the emotional trauma it causes. To play devil's advocate, one could argue that you have to understand the intent of the song and the culture surrounding its authors. Party culture is not necessarily the safest space for anyone who is not a cisgender white male. When you surround yourself with this culture consistently, you might be desensitized to the emotional effects of date rape. Ultimately though, this hit does not age well.
End of content warning!
The final track on this album is a thank you to everyone who made the album possible, including their long list of musical influences including: Bad Religion, the Descendants, James Brown, The BSM, Miles Davis, Jimi Hendrix, the Sonic Lizard, the Rape Man, Bob Marley, Bob Dobbs, Bob Forrest,  Eek-A-Mouse, PEN1, Fugazi, Rhino '59, Greek1, Butthole Surfers, Frank Zappa and many more. As a whole, 40oz. to Freedom is a really crazy house show captured and if you can survive it, you'll want to re-live it over and over and over again.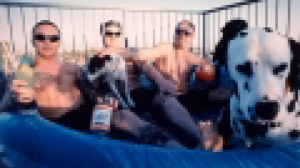 In 1994, Sublime was signed to MCA records, even after the band let Nowell's dog, Lou (known lovingly as Louie-dog), go to the bathroom in an executive's office after they had been left waiting for too long—but according to their manager at the time, it was because the music was just that good. After KROQ, their fame rose, and their fan base grew. That same year, the band release Robbin' the Hood. Their sophomore record shows a more experimental side of the band. The album, which marks the band's major label debut, begins with three songs made mostly of sound samples or recordings (littered with profanity and violent words towards women) with little to no instrumentation. "Pool Shark", the first official song of the album is a fast-paced punk song about Nowell's heroin addiction. With a run time of 57 seconds, listeners may miss the most honest song on the album. Lucky for them, there is an acoustic version later in the record that allows them to understand the full range of Nowell's emotions. He ends the song, rather chillingly, with the line "one day I'm gonna lose the war". Additionally, there is a noticeable shift in the musicality of this album. If 40oz. showed the diversity in their influences, this album screams it at you. There were bits of other genres on 40oz., but on Robbin' the Hood, Sublime dedicates most of its time to new endeavors. There is a substantial amount of rap and references to hip-hop as well as the incorporation of new instruments such as drum machines. I enjoyed Nowells shift to more acoustic songs as well, as it makes you remember that under the rapping and big talk, there is a talented musician with a good voice. Unlike most bands who take their music in a different direction, Sublime still pays tribute to their ska roots in songs like "Greatest- Hits" and "Saw Red" (former ska-frontwoman-turned-pop-star Gwen Stefani showcases her impeccable vocals on this track). Lincoln highway dub is definitely the pipework to "Santeria", the hit from their third and final record. This album is very much a recorded jam session between musicians as opposed to a group of clean cut songs.
The album also features "Raleigh Soliloquies", which are sections of a rant recorded by Raleigh Theodore Sakers, a man who suffered from schizophrenia. The tapes were obtained by the band through their old drummer, whose brother was in acquaintance with the man Raleigh and can be heard arguing with him in the tape. It is said that the majority of the album was recorded in a crack house located in Long Beach (according to Nowell's widow). This was also during the height of his drug abuse. After the release of Robbin', Sublime began touring extensively and with this, his addiction worsened. Their shows became an uncontrollable madhouse (even more than they were before), their posse grew, and their antics began to have consequences. The band ran into trouble during several different events, most notably during Vans Warped Tour '95, when the band was asked to leave because of their unruly behavior. Louie-dog had bitten four people, and the band members had been bringing crowds of people backstage, much to the annoyance of venue workers and security alike.
1996, Sublime release their final, self-titled album. It opens with a stoner groove called "Garden Groves". On it, Nowells speaks candidly about his everyday struggles with depression and addiction. The song is slow, trippy, and monotonous, the perfect combination to convey feeling both high and depressed. Funnily enough, the rest of this album is full of summertime jams. "What I Got" is a carefree anthem that to this day blasts through fast driving cars on their way to the beach. Everything in the world is awful, but you always have love, and that is actually pretty uplifting. "Wrong Way" stays true to Sublime's reputation of telling the stories of the other side of the California dream—Long Beach's poverty problem. The song, like many of Nowell's, is a story, this time of a girl who wants to escape her life on the cracked-out streets of Long Beach, filled with abuse and prostitution, but her boyfriend only seems to do things wrong. Sublime dips their hands into politics when they comment on the case of Rodney King, who, on March 3, 1991, was severely beaten by police officers. This sparked conversation about police brutality, and on April 29, 1992, riots and looting took place in Miami, Florida, which the band members of Sublime claim to have been a part. This inspired the song "April 29, 1992 (Miami)".
This album is also home to Sublime's biggest hit, "Santeria", which is ultimately the happiest sounding song about heartbreak there has ever been. Do not be fooled by the smooth, catchy jams on "Santeria", it is another heart wrenching triumph of Nowell's, as he describes the life of a man who has one wish in this world: to get his girlfriend back (and he will try anything to do so).
Sublime features a whopping six covers, including "Pawn Shop" which is a modified "War Deh Round A John Shop" by The Wailing Souls, "What I Got" which is based on Half Pint's "Loving" and "Jailhouse" by Bob Marley's combined with cover of Tenor Saw's "Roll Call" to name a few.
The song "Paddle Out" is your classic mosh-pit tune. Sublime combines the experimental attitude of Robbin' and the fun party house mentality of 40oz., with plenty of reggae sprinkled in between. Sublime also finds new ways to combine their favorite genres together in songs like "The Ballad of Johnny Butt", which has the musicality of reggae, but the crass lyrics of a punk song.
Did you know "What I Got" has a reprise? Me neither, but you should go listen to this entire album to hear it in context. The reprise of this song emphasizes Sublime's message that, even after all the terrible things they recount to you, from heroin addiction to prostitution to heartbreak, no matter what, they still have love. Overall, the album is honest yet satirical, uplifting yet crushingly sad, chaotic yet controlled. Nowell delivers the most honest lyrics of his career paired with some of the best instrumentation from Wilson and Gaugh. It was nearly the perfect storm – an album release in the summer of 1996 filled with some of the best summer hangout songs to date hand made for the beach, but without a lead singer to promote them.
As stated at the beginning, Bradley Nowell died two months before the release of Sublime. It is an unfortunate fact, but he did not live to see it go 5× Platinum and obtain a legacy as the album that brought ska punk to the mainstream in the 1990s. He did not live to hear his song play on every classic rock station in the country, or to see his band's logo proudly hanging on a wall in every stoner den in America. And not like he'd see this, but he did not have the chance to see a 19-year-old music reporter experience his music for the first time. On the cover of his final album is Nowell, showing off his Sublime tattoo, which takes up his entire upper back. It is as if Nowell had written his own eulogy, and its cover immortalizes the one constant in his life: his music.
One could only wish to have a life as enriched and crazy as his, but if listening to Sublime's music taught me anything, it is that one may be better off simply wishing.
SHELBY LEONE | Love is what I got (And I remember that) | KXSU Music Reporter