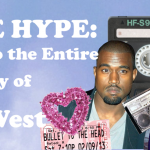 This is the first instalment of music reporter Shelby Joy Leone's column On the Hype. On the Hype has been designed to encompass equal parts exploration and challenge, as each month, I will listen to the entire discography (and yes, I mean the entire discography) of a culturally influential artist for the first time. Am I a self-hating masochistic? Maybe.  But my hopes for this project are that it will help me understand the sides of music that are unfamiliar to me and how they impact those who listen to it—and who knows, I may actually like it.
---
When I chose hip-hop megastar Kanye West as my subject, I set up a very, very, very big challenge for the opening piece of this project. With seven studio albums (and thus over seven hours of content), making my way through Kanye West's entire discography was no small task. Additionally, I knew that diving into the world of hip-hop would put me completely out of my element, considering my personal music preference leans more towards all things punk than anything even remotely rap-related. But upon first listen, something that immediately struck me about Kanye West was just how… punk he actually was. The way I see it, punk rock is about rebelling against the systems that oppress you. For example, punk icons The Sex Pistols were known for shocking the nation with the anti-monarchy anthem "God Save The Queen", in which they equated the British monarchy with a fascist regime that "made people morons". The song spoke out for the British working class and was eventually banned from British radio due to its radical and controversial anti-establishment lyrics.
The Sex Pistols, Photo By Janette Beckman
From the very beginning of his career, Kanye West exudes a Johnny-Rotten-esque rebellion. From what my research told me, his first studio release, College Dropout (2004), was the result of years of hard work in the face of opposition coming from all aspects of his life. Kanye West's career began in the mid 90s as a producer, creating beats for local artists and making his way up the food chain in the world of hip-hop. In fact, West contributed greatly to Jay-Z's legendary 2001 record, The Blueprint. By the time he shifted his focus onto his own music, West had produced hit records for artists such as Ludacris, Foxy Brown, Alicia Keys, and Janet Jackson. However, despite this success in the world of producing, West yearned to be a rapper. He decided to focus on his music after a near-fatal car crash, which left West with serious injuries. During his long and arduous recovery, he worked on the album that would become College Dropout. These early works included the song "Through the Wire", which was written and recorded while Kanye's jaw was actually wired shut from the accident. West's struggles did not end there. When he attempted to obtain a record deal and release this project, he was repeatedly rejected. West did not fit the sought-after image of the "gangster" that was popular for rappers at that time, and thus seemed unmarketable to higher ups in this music business. Finally, after a seemingly endless struggle, Roc-A-Fella Records (which was founded by Damon "Dame" Dash, Kareem "Biggs" Burke, and Shawn "Jay-Z" Carter) reluctantly signed West in 2001.
(From left to right) John Legend, Kanye West, GLC and Consequence. New York City, Nov. 1, 2004.  Photo by Angelo Baque
It is appropriate then, that College Dropout sounds like the sonic version of a middle finger,      directed at everyone who ever doubted Kanye West. From former teachers, to his boss at the Gap, to the very heads at Capitol Records who rejected him, West utilizes the age-old punk rock mentality of calling out everyone who dared to underestimate, ridicule, or use him. I felt right at home when listening to College Dropout. With its many skits and side commentary from Kanye and his friends making fun of both the world of rap and education, I felt as though I was listening to the kind of subversive joke-punk I love (e.g., the Dead Milkmen song "Stuart").
College Dropout is full of rebellion, whether it be from the standards put on him as the only black worker at the Gap, or the institutional racism he and other people of color face in America. In the song "We Don't Care" Kanye, along with a chorus of children, sings: "Drug dealin' just to get by / Stack ya' money 'til it get sky high / We wasn't s'posed to make it past 25 / Joke's on you, we still alive / Throw your hands up in the sky and say: 'We don't care what people say.'"
The use of children's voices in this song really struck me. They are literally laughing in the face of the world built to bring them down from the start with a childlike innocence and sense of fun. This album is not just a middle finger to the traditional "establishments" like school or state , it is a middle finger to the established persona of the hip-hop scene. The album deals with the generally "not gangster" themes of family, institutional racism, higher education, and religion. Throughout this album, I kept getting a sense of hope from Kanye. He is undeniably hopeful. Someone who daydreams as much as West says he does must believe in a better future that is worth fighting for. West fought long and hard to get this album made, and he tells the story in this album's twelve-minute conclusion "Last Call", which has the memorable line: "I ain't play the hand I was dealt / I changed my cards / I prayed to the skies and I changed my stars."
Additionally, the pitch shifted samples of gospel and R&B songs he chose to embellish his tracks with, again, distinguished him from the gangster style of the time and gave his music a softness and that was not usually seen or heard—it certainly pulled me in as I listened. I was excited to see what song he sampled next and how he would make it his own.
In his next release, Late Registration, West expands his subject matter to those beyond himself, touching upon subjects like the ethical problems of blood diamonds in "Diamonds from Sierra Leone" to the effect of crack cocaine on black communities in "Crack Music". West continues his pattern of unapologetically bold lyrics in this song's chorus, which goes "That's that crack music n***a / That real black music n***a." The song has no qualms with poking at harmful stereotypes as well as the dark realities that face black communities.
The song "Hey Mama" made me cry. A lot. In it, West spends five minutes praising his mother in the most wholesome, adorable, and humble way. The chorus of this song should be played on repeat from the break of dawn until the end of the day on Mother's Day, it's that powerful. "(Hey Mama) / I wanna scream so loud for you, 'cause I'm so proud of you / Let me tell you what I'm about to do / (Hey Mama) / I know I act a fool but, I promise you I'm goin' back to school / I appreciate what you allowed for me / I just want you to be proud of me". Boys, take notes. This is how to treat your mama—and how to make a nineteen-year-old reporter cry in the middle of a coffee shop.
The classic BANGER that is "Gold Digger," ft. Jamie Foxx, made me smile as well. I love the chorus Foxx provides, and West's lyrics lend themselves to multiple listens. The more I listened, the more it seemed that though Kanye has matured musically, incorporating more music styles and using far less of his beloved soul samples (instead, West incorporates an entire string orchestra). Late Registration also offers a more upbeat Kanye. He is a more confident MC, leading what sounds like a whole army of guest appearances that includes stars like the aforementioned Jamie Foxx, as well as Adam Levine, Common, and Nas. He is marching them into a newer, faster, and shinier era. By now, Kanye had the power and money to invest two million dollars and take over a year to work on this album, and it shows.
West was subject to controversy just days following the release when, during a benefit concert for Hurricane Katrina victims, West said "George Bush doesn't care about black people" on live TV. He continued the controversy in January 2006 when he appeared on the cover of Rolling Stone wearing a crown of thorns referencing the one worn by Jesus Christ during his crucifixion. West was known for stunts like this, and from what I could gather, this was the beginning of the egotistical view of Kanye West I had heard so much about, which perfectly leads into Graduation, West's 2007 release. This album drops West's love of funny skits and soul music in favor of a new love: Kanye. The song "Stronger" is West's personal f-you to the growing mass of hate he faced as the controversies grew. It sounded to me as if West was pulling a page from the Friedrich Nietzsche playbook. Nietzsche famously wrote, "What does not kill him, makes him stronger." West takes this to the extreme in "Stronger", accompanied by intense beats and a remix of Daft Punk's "Harder, Better, Faster, Stronger". Nothing can kill Kanye, you can only make him stronger.
Picture via Wikimedia Commons
Despite his more narcissistic lyrics, West is actually a raw and confessional MC on Graduation, more than ever before. Behind the facade of "Kanye West" the chest pounding rapper, there is Kanye West the human being. In the song "Everything I Am", West even says "I never could see why people'll reach a / Fake-a** facade that they couldn't keep up". He then shifts focus from himself and onto Chicago's high murder rate: "Just last year, Chicago had over six hundred caskets / Man, killin's some wack sh*t / Oh, I forgot, 'cept for when n***s is rappin'". If anyone thought Kanye only cared about himself, they could listen to this album and be proven otherwise. Sure, Kanye likes Kanye, but it seems he likes what Kanye can do for the world a lot more.
By now I was in a very good place with Kanye West, but from the first note of 808s and Heartbreak (2008), I was not a fan. During this project, I tried to open up my mind to all types of music (I mean, I kind of have to unless I wanted to torture myself), but I could not, for the life of me, get behind West's heavy-handed use of auto-tune on this record. The most I could bare was present on the track "Heartless", which was most likely due to the fact that I remembered the song from listing to the radio back in 2008. To his credit, West continues his trend of songs that are packed with brilliant lyrics and raw emotions in certain songs such as "Paranoid", but for the most part, this album was the first of West's that bored me. I did, however, enjoy the use of a classic Roland TR-808 drum machine. When I was not enduring an attack at the hands of West's aggressive auto-tune, I enjoyed the 80s vibes that the drum machine provided. The album actually turns around on track 8 of 12 with "Street Lights", where West's voice can be fully heard as he expresses heartbreak. The album then focuses on the surprising death of his mother, of which Kanye blames himself. It's sincere enough, but leaves something to be desired.
On My Beautiful Dark Twisted Fantasy, West comes back swinging for me. The song "POWER" acts as his new manifesto, his fight song for this new era. In it, he declares "I embody every characteristic of the egotistic / He knows, he's so f**king gifted / I just needed time alone with my own thoughts / Got treasures in my mind but couldn't open up my own vault / My childlike creativity, purity and honesty / Is honestly being crowded by these grown thoughts / Reality is catching up with me / Taking my inner child, I'm fighting for custody / With these responsibilities that they entrusted me."
I know most people already know this, but "Monster" is one of the best songs of our generation. The QUEEN OF EVERYTHING Nicki Minaj makes an appearance, laying down the best verse of the entire album (sorry Kanye). Don't get me wrong, West's verses are very, very, very good, but nothing beats the storm that is Nicki Minaj. Ultimately, Kanye is taking notes from Minaj, who embraces the media's extreme view of her with intense and polarizing characters (i.e., Roman, The Harajuku Barbie, Martha Zolanski, etc.).
Photo by Nick Knight
My Beautiful Dark Twisted Fantasy is West's dramatization of the egotistical Kanye the media (and admittedly, I) saw him as after his public breakdowns. From his famous interruption of Taylor Swift at the 2009 MTV Video Music Awards, to his numerous failed public relationships, to his attacks on multiple members of the paparazzi, West was seen as a chaotic figure. Within his own chaos, however, he finds the fuel for this brilliant album. You want to call him an egomaniac? Too bad, he's done that himself. He takes on his critics and once again, shows them a College Dropout middle finger. Additionally, West finds a softer side within this album. The demented and creepy beginning of the song "Runaway" demands you to listen—West's self-deprecating and reflective lyrics make you stay. It is a filthy version of Hamilton's toast. This, along with "Blame Game", broke my heart into a thousand little pieces.
I then finally reached West's 2013 hit, Yeezus. I remember just how much I heard about this release when it came out, so I sort of knew what to expect. I was not disappointed; Yeezus delivers West's best work yet; he' is not playing around anymore. These lyrics are deeper, more thought provoking, and even more bold (who knew that could be possible? Kanye West did). I was actually familiar with the brilliance of "Blood on The Leaves" and how hard it goes because I had learned a choreographed dance to it for my senior year spirit rally (yes, I did stop everything I was doing and do the dance). This song rings in the triumphant return of Kanye's use of classic soul music, with a sample of Billie Holiday's "Strange Fruit". West uses Holiday's depiction of public lynching in the south to describe the fall of a public relationship. Dramatic as it may sound, both Holiday's and West's croons are heartfelt and broken to the point of absolute, empathic heartache. Along with this comes more hits such as "Black Skinheads" and of course, the iconic "Bound 2". I'm just going to leave this here…
The song "New Slaves" is an honest, and rightfully aggressive, song that deals with the history of racism and how it led into the present reality of our nation's prison-industrial complex. West has found himself in the middle of the white upper class, and he has some scathing observations to provide as he witnesses his fellow black men imprisoned one after the other.
Yeezus is really a look into the mind of a troubled genius, but the question remains whether this genius is a character put on by West or if he is in serious need of help. Sonically, these songs are intense, urgent, and heartfelt. West is tangibly pissed off, and he lets these chaotic feelings out in the open on this release. West combines his beloved soul music with intense electro, and the result is something rather beautiful.
I cried publicly in a coffee shop (again) the minute Life of Pablo began. Specifically, because of the song "Ultralight Beam". Maybe it's the beautiful verse sung by the insanely talented Kelly Price, or perhaps it's Chance the Rapper's earnest and hope-filled verse. Maybe it is the choir of gospel singers lifting their voices like they are in church. Either way, there were tears. I have a complicated relationship with the church, but this song made me sit down and take reverence. West and Co. preach their faithfulness to God, and their fight to keep this faith. Kanye repeats over and over "this is a God dream". This a belief in God that is bright, light, and holy. This is a God dream. All contributions made to this song are vulnerable. Some choice lines include"
Hey, 'cause I know that you'll make everything alright
And I know that you'll take good care of your child
Oh, no longer am afraid of the night
'Cause I, I look to the light
When they come for you, I will shield your name
I will field their questions, I will feel your pain
Yes, God
Hallelujah
I'm tryna keep my faith
(Yes, Jesus)
But I'm looking for more
Somewhere I can feel safe
And end my holy war
Father, this prayer is for everyone that feels they're not good enough
This prayer's for everybody that feels like they're too messed up
For everyone that feels they've said "I'm sorry" too many times
You can never go too far when you can't come back home again
That's why I need…
Faith, more, safe, war.
Photo by Dana Edelson/NBC
This song is a prayer that invites everyone who listens to it. I encourage everyone to sit down and watch the legendary performance of it on SNL too.
This album is definitely Kanye's best lyrically, in my opinion—maybe it's because Kanye knows himself more than ever. In his song "Feedback", Kanye asserts, "I can't let these people play me / Name one genius that ain't crazy", again owning the media's view of him as he basically calls himself a crazy egomaniac, and doing it even better than they can. I mean, he has a song called "I Love Kanye" that deals with this same subject perfectly. I am just as obsessed as he is. This album also contains some of West's most vivid imagery and storytelling (e.g., "No More Parties In LA", "Feedback").
The final song on this album, and thus the final song I listened to on this journey, is "Saint Pablo". It was fitting then, that it feels like Kanye touched upon every subject he ever has, calling back to moments in his life and the overarching themes of working hard and keeping hope for a better future (a life he now lives). He even refers back to a song I mentioned earlier, "Last Call", when he says, "The ultimate Gemini has survived / I wasn't supposed to make it past 25". Twelve years after the release of College Dropout, Kanye is still alive, and not only that, he is living like he is holy.
Cover art for Life of Pablo
When I told people I was going to listen to the entire discography of Kanye West, by far the best response was from my friend Jayden. As a die-hard Kanye fan, Jayden gave me a perspective I needed to hear: "Kanye is different because he doesn't care about the world around him—he makes the world listen to him. He says and does whatever he wants, like when he said 'George bush doesn't care about black people' on live television. That's also why I think he's iconic. Everyone should hear 'Blood on The Leaves' and 'Black Skinheads' [because] I think Kanye does a good job of expressing the problems and adversities of the black man. There is a glass ceiling you face being black in America and I can sympathize with that. In the song 'All Falls Down' he says, "Even if you in a Benz, you still a n***a in a coupe" and I like that line a lot because it shows no matter how rich you are some people still see you as just a n***a. Kanye West is our Michael Jackson and people won't realize it until he dies."
So, why do people like Kanye? I think it's because Kanye likes Kanye. In a world filled with gangster rappers, Kanye is a hopeful Gap employee. When the press wanted to shame him, he doubled down on his antics. When this world wants to oppress him, he is unapologetically black and proud. To love thyself as a walking controversy is in and of itself an act of rebellion. So yes, Kanye West is egotistical—and that is what makes him brilliant.
Check out the playlist I made of my personal Kanye West highlights: https://open.spotify.com/user/127658082/playlist/0M3hZn4IXwFlNWqqnP2vKb
---
SHELBY JOY LEONE | This is a God dream | KXSU Music Reporter