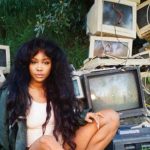 Photo Courtesy of SZA
I'm in musical disillusion. This is the term I have created for this strange feeling, and ironically, I didn't know this is something other people relate to until I read a SZA interview for this article. "I'd stopped listening to music in maybe 2010. I stopped downloading music, I stopped listening and looking for new music. I didn't play any music on my own. It made me really sad, made me overthink. I started having a weird connection to music," she told Rolling Stone earlier this year. So, it's true just as she says—I can't connect to music in the way I used to. My disconnection with music is less intense than SZA describes, but the point is that music really doesn't excite me the way it continuously has throughout my life. I guess this was sparked by the rampant number of musicians who have been uncovered for sexual misconduct and abuse recently, including some of my favorite musicians of all time. My musical disillusion is especially weird considering how I have formed a large part of my identity around music and the kind of music I like. I've spent years creating something for myself around a music community I have somewhat lost hope for. It's left me in a spot of "So now what?"
Strangely enough, my "now what?" became Ctrl by SZA. Yeah, I know I'm super late on the buzz, but it's been very rare for me to push punk related genres to the side for something else. If you told me a year ago an album mostly defined as R&B would be one of my favorite works ever, I would not believe you. Strangely enough, once I finally explored Ctrl in its entirety, there was no going back. So, I decided to create some kind of pact or temporary solution with myself: I would only listen to SZA for a month. It's quite a dramatic self-declaration, and I have to admit I did not strictly hold to it. However, I can assure you, I pretty much did only listen to Ctrl by SZA for a month. Here's what I got from it.
https://open.spotify.com/embed/album/76290XdXVF9rPzGdNRWdCh
I'm writing this kind of assuming you already know who SZA is, but if you don't, here's a little background. SZA's real name is Solána Rowe and she is a 27-year-old musician from New Jersey. Rowe was raised conservatively Muslim and as a competitive gymnast. She has commented on feeling like an outsider in her childhood/younger years for her faith, race, and general personality. SZA only began exploring music around 2011 and released an EP called S in 2013. Shortly after, she was signed by Top Dawg Entertainment, becoming label-mates with artists like Kendrick Lamar, Isaiah Rashad, and Schoolboy Q. Her next EP titled Z was released the following year. She planned to conclude the series with a project called A, but felt stuck and withdrew. The four following years were spent patiently creating Ctrl, what SZA sees as a chronicle of her life in those four years and before as a young woman.
I have never connected to the entirety of an album like this, nor have I even heard an album like this. It's daunting to try to write about for this reason. Ctrl is an encapsulating concept album; it is strikingly unapologetic, vulnerable, jarring, comforting, and dreamlike. Its musical production combined with its lyrical content creates something seamless. It almost feels weird to define her words simply as lyricism, because to me it feels like a raw declaration combined with the intimacy of diary entries. With my personal trials and tribulations navigating life as a young woman, Ctrl speaks to me as the perfect coming of age album. There is something special and confusing about this time, and SZA seems to flawlessly express the turbulence of embracing femininity in one's early 20s—the empowerment of that, the pain of that, and the fear of that. Being a young woman comes with doubt, insecurity, joy, and self-discovery. Self-discovery does stretch much further than early 20s, but it's an especially transitional time with the creation of relationships and experiences that shape us as women. There's a lot to break down about this album thematically, but I'll try my best to do so as cleanly as possible through my personal interpretation.
Evident by the album's name, SZA reflects on the concept of control in our lives. The album begins will a recording of a phone call with her mother, in which she says, "And my greatest fear is if I lost control or did not have control, things would just be, you know… fatal." Throughout the album, SZA scatters similar recordings from various phone calls with her mother and grandmother on the topic of control and related ideas. When asked about her perception of control, SZA told Pitchfork, "It's elusive. It's another representation of the egoic mind, the want for control because you can't accept lack of control. Control is not real, and I'm really understanding that every day. It's about the acceptance of relinquishing control that makes it powerful for you." The huge human reliance on control is something I didn't evaluate much until I heard the album. It makes sense. When I look at my emotions of sadness or other people's emotions of sadness, it often can be interpreted or narrowed down to the fear that comes with the unknown—the lack of control we feel in specific instances or broader experiences. There is so much that comes down to wanting control.
Photo by Frederick M. Brown
Something else I've connected with is SZA's exploration of imperfection in relation to societal expectations of women. These two exist as a rigid dichotomy that every woman faces. SZA challenges how women are expected to be somewhat reserved, pretty, and accommodating. Lines like, "I'm sorry I'm not more attractive / I'm sorry I'm not more lady like / I'm sorry I don't shave my legs at night" reflect the doubt and shame that come with trying to fit into a feminine mold. The track "Normal Girl" expands on this as she sings, "I wish I was a normal girl / How do I be? How do I be a lady?" She explained to Cosmo early last year as well, "For a long time, I wanted to be a different person. I wanted to have my shit together, I wanted to have perpetually clear skin, f**king remember to moisturize. I wanted to not talk too much, slow down and not stutter. I didn't want to have ADHD. I wanted to be a normal person. And I think that craving and the editing of myself hindered me, so I just stopped editing. And that was all. The embarrassment of being me still stands and exists all the time, every moment, but it's also learning the acceptance part and also being down to see where me takes me is the part that set me free." I absolutely love the way she is able to accessibly put this message across in her music, and it is a major theme that I could rant about for too long. I have often struggled with feeling like the girl who talks too much, who laughs too loud, playing the tape in my head of, "maybe I should quiet down, or maybe I should be more poised like other girls are." There is no normal girl. We are all flawed and at times stressed by fitting into the societal role of a woman. It is ok to feel like this, and we should allow ourselves to vulnerably bring out these emotions for healing instead of suppressing them and cowering in shame of our femininity.
On a related note, when I hear people talk about SZA and Ctrl, they often comment on or perceive that SZA makes "side chick anthems" or "brings out the side chick" in them. This perception comes from songs like "The Weekend," "Supermodel," and "Doves in the Wind." For example, on "The Weekend" SZA does sing about sharing a man with other women, singing, "My man is my man is your man / Heard it's her man, too." SZA explained to Vulture, "In that song, I'm opting in. Like, I know you have a bunch of girls, probably. Maybe you're not being honest with me — I just know that you have mad girls — and I still don't care, because I didn't want to be your girlfriend anyway! I'm not internalizing the way that you're acting as a disrespect towards me, it doesn't make me any less because you're not my boyfriend. And like, you're not her boyfriend, and you're not her boyfriend." This song isn't about cheating—it's about reclaiming the power in this kind of common situation. Multiple publications try to slut shame her for this song and the other two I previously mentioned. It's crazy for me to observe that that's all they can get from the album. There's finally this strong, honest, feminine art embracing sexuality and its relation to so many other things, and people want to shut it down or act condescending. Sure, SZA sings about sex. She says things as straight up as, "Real n**gas do not deserve p***y." But how many mainstream songs do we constantly hear about men describing their sexual experiences without being shamed? In my opinion, people's condescending reactions towards these songs just come from intimidation
Photo by T.K. Atakora
Not only is the album thematically meaningful, but WOW. This musical production… is INSANELY good. SZA pushes the boundaries of R&B and blends genres in a way that hasn't been done before. Her musical sound is refreshingly unique and interesting. I think this is another reason I'm really drawn to the album. I have listened to countless indie-rock/punk/emo bands that sound exactly the same. I was craving something that would stop me in my tracks and interest me. An R&B song built on just three acoustic guitar chords? Are you kidding me? This is what SZA does on Grammy nominated song "Supermodel," explaining that she heard her friend messing around with these three chords on guitar one day and they clicked for her. She took them to the studio and freestyled the lyrics. This resulted in a hauntingly gorgeous crossover of R&B and indie-rock, two genres I would never think of together. Throughout the album, SZA jumps around from things like violin, trap percussion, and electronic sampling. It both melts into you smoothly and keeps you on your toes. AHHHH (that's me screaming about it). The four years it took for her to perfect the album are evident in how clean and tight the production is. Nothing comes close to being messy; its flow and precision is very admirable.
The album ends in perfect summation with the track "20 Something." This one is also built on simple guitar chords giving an alt-rock vibe. SZA sings, "Hopin' my 20 somethings won't end / Hopin' to keep the rest of my friends / Prayin' the 20 somethings won't kill me." Finally, the song ends with a recording from her mom to wrap everything up. "And if it's an illusion, I don't want to wake up," she shares. "I'm gonna hang onto it. Because the alternative is an abyss, is just a hole, a darkness, a nothingness. Who wants that, you know? So that's what I think about control, and I'm sticking to it!"
I've clearly ranted about this album long enough, but for some reason it seemed to come into my life at the right time. Listening to it almost exclusively for a month felt cleansing instead of tiring. It's been empowering, comforting, and understanding. Ctrl feels like the Friday night you spend alone, the hope for the future, the painful day after the breakup, the joy in the little moments, the nights out, and the realization of your capability. It's captured in simplicity of 14 songs, and I'm thankful for them.
---
JULIA SCHWAB | SZA Stan | KXSU Music Reporter