Author: Riley Urbano
In a weird and subtle way, the atmosphere of a low-key night at a bar with a few local bands is unique and delicate. The audience is full of friends and significant-others of various band members, all intimately familiar with the music that's going to be played that evening. Every act is trying their best to impress new potential fans without going so far out on a limb that they risk losing the attention of the audience as a whole, and audiences often remain hushed and attentive no matter what's playing; after all, some of the people in the room might not have ever heard any of the music anyone is performing. Bold artistic choices are often met with skepticism and nervous laughter in these environments, which might discourage some artists at this level from taking too many chances. I'm pleased to report that that wasn't at all the case last Friday – Peter Michel, Talktin and Easy, and Night Hikes all played incredible sets that subverted my expectations in the best way, and made for an incredible night's worth of music.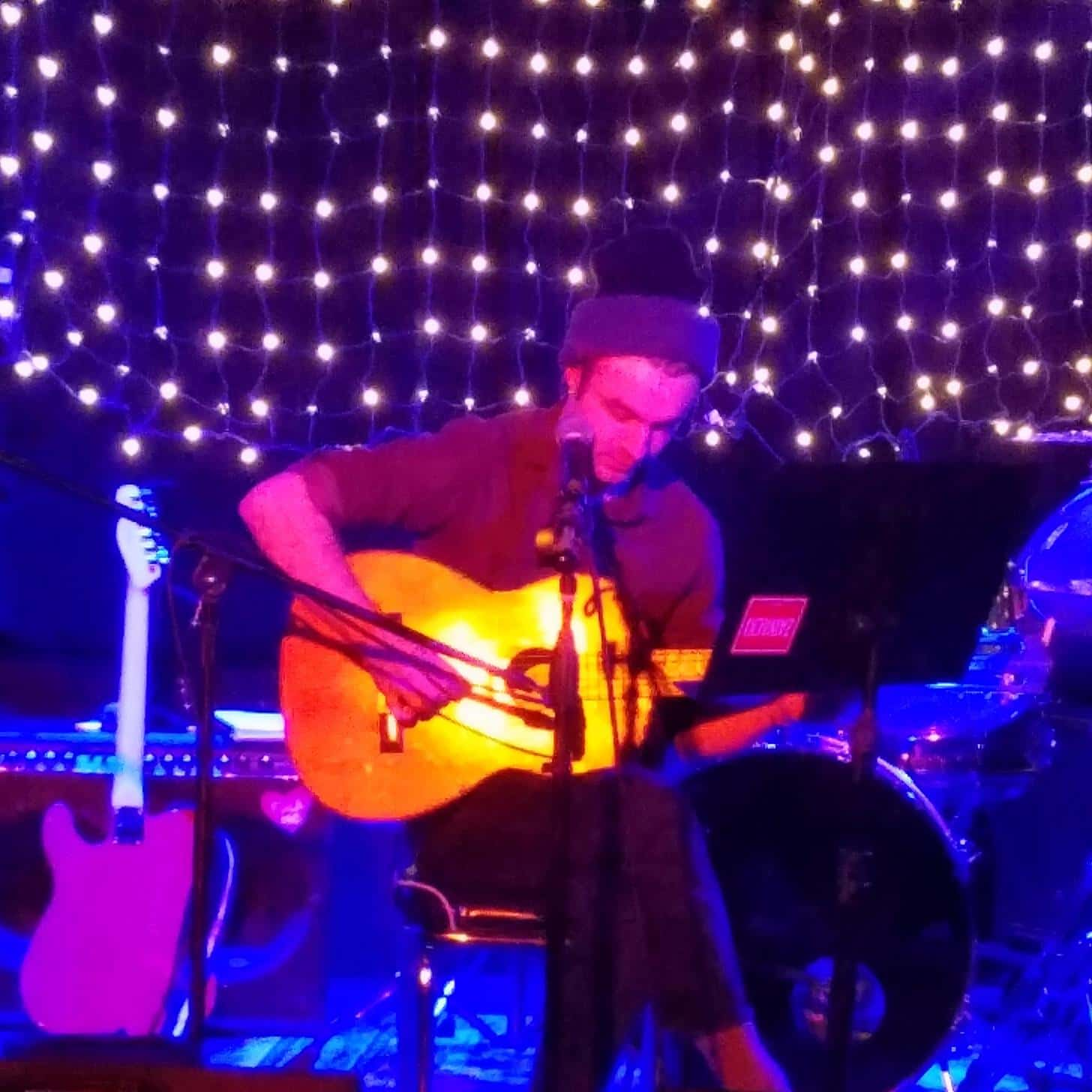 The first act of the evening was a solo set from Peter Michel, the mastermind behind heavyweight local pop band Hibou. Hibou's records all have a massive dream pop sound with tons of studio effects and lush instrumentation, so it was fascinating to hear Michel shrink his songs for a solo performance and emphasize the finer details of his songwriting style. Among cuts from his most recent record as Hibou, Halve, Michel also played a couple of covers, including a killer rendition of "Indiana" off Adrianne Lenker's first record, Hours Were The Birds. He referred to Lenker as a favorite songwriter of his just before breaking into that cover, and his reverence and passion for the material really came across in his performance.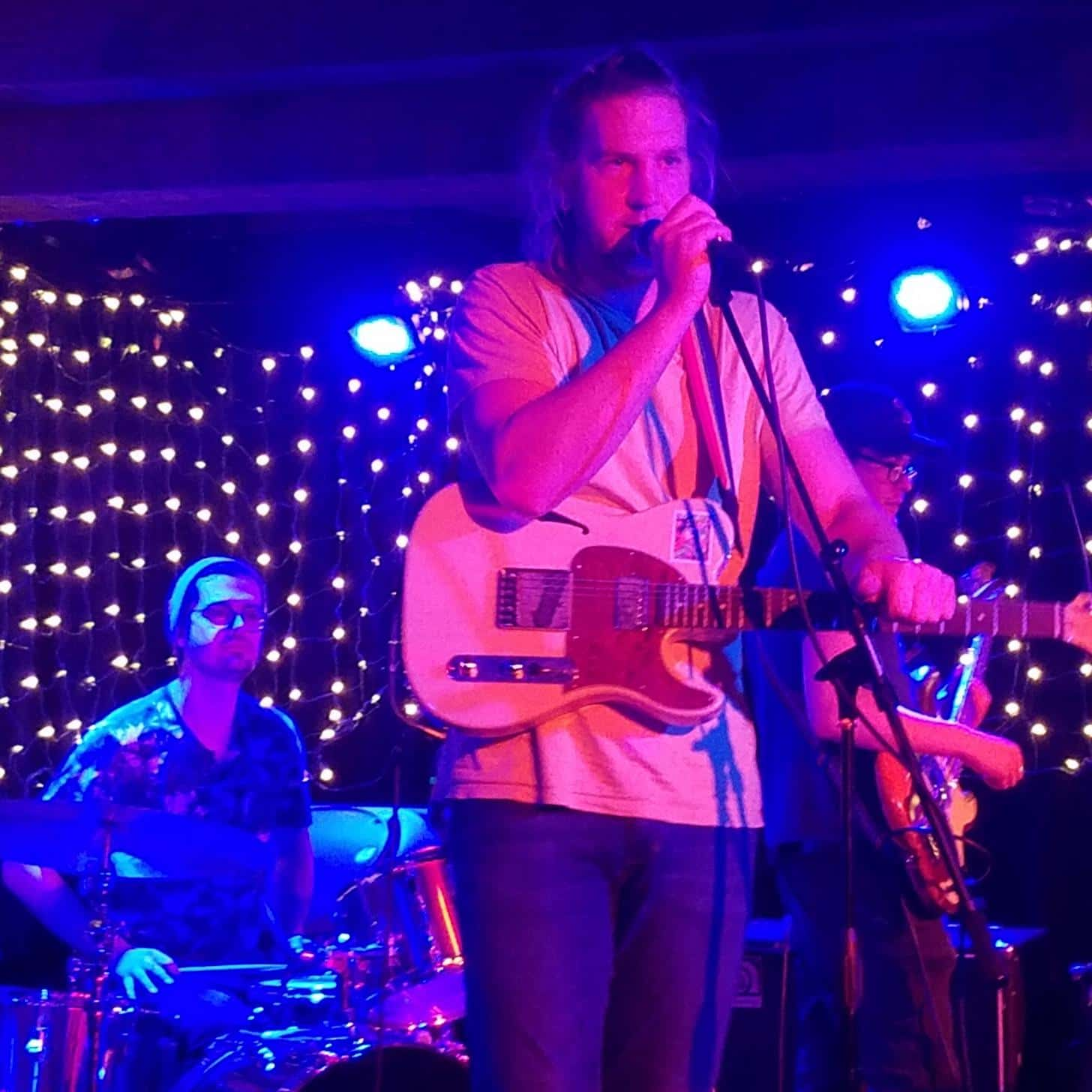 The evening's second set of songs came courtesy of Talktin and Easy, a band whose music was entirely new to me and whose set left me… dumbfounded? It was wild. Talktin and Easy boasted a six piece line up that packed a serious punch in the Sunset Tavern's relatively small back room.. And on top of that, the frontman had a pretty big personality, and the band had a fascinatingly idiosyncratic style of songwriting and performance that had me pretty mesmerized. From track to track, these guys were bouncing between close harmony-laden vocal parts that reminded me of the Everly Brothers, tried and true indie riffs a-la Built To Spill, and even a couple of weirdo synth interludes that broke the set up super evenly. Talktin's Bandcamp profile puts it as well as anyone possibly could I think, with this pithy list of genres: "Prog-Folk, Trip-Trop, Slack-Line, Tangle-Pop, Indie-Induced, Underdog-Core." Pretty great!
The last set of the night came courtesy of Night Hikes, a band that I honestly really love. They were the only act I was familiar with beforehand as far as the evening's bill went, and I was expecting a relatively straight run through of a few tracks off of their incredible new record, Chalice. I was surprised to see that they had spent a considerable amount of time crafting a seamless experience, with rich, dynamic transitions between every track. Night Hikes' tried and true, classicist approach to dream pop gets me every time, and the band's newly extended renditions of tracks like "July" and "Chalice" were a warm and friendly balm against the incredibly terrible weather of the week… Needless to say, I'll almost definitely be catching Night Hikes again, and if you like dream pop, you should come out for it, too.
Riley Urbano | support local music | KXSU Music Reporter