Author: Bridget Benevides
Trigger Warning: Sexual Assault
On October 8th, 2018, actress Dakota Johnson posted a phone number on her Instagram with the caption "I don't want to speak for you. I want to listen to you. Tell me your story, and I will listen. There is power in numbers." Together, Johnson and Global Citizen complied the voicemails into a podcast called The Left Ear which brings you stories of harassment, abuse and assault from people all over the world. You are encouraged to listen with your heart and create a safe space for the silenced.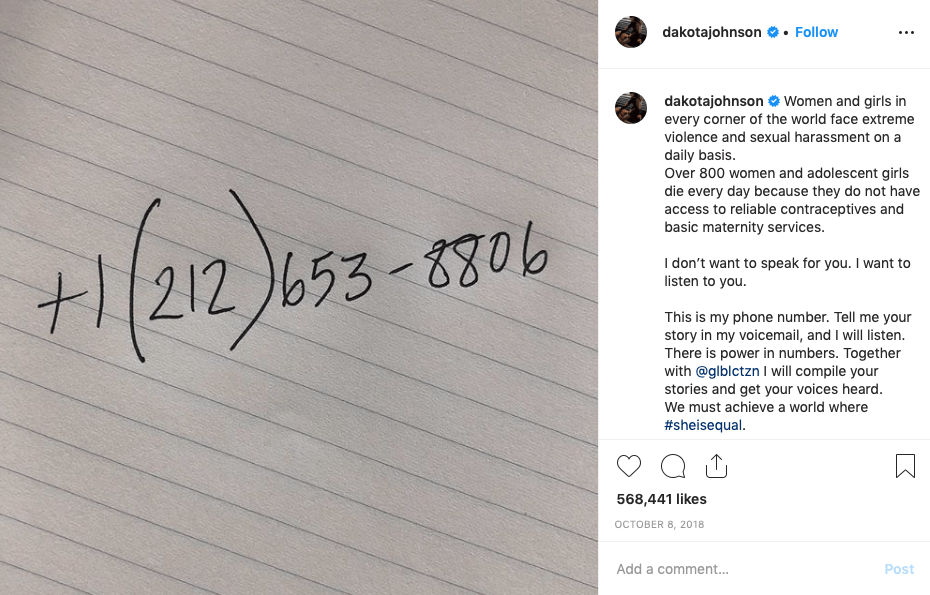 I started with the "PROLOGUE," a 4-minute video in which Johnson explains her motivation behind this podcast. She says, "What I found listening to these messages was an unbelievable level of honesty and humanity…" and toward the end, "It is important that you are here, thank you for being here, and to the callers… thank you." So, I pressed play on Episode "ONE".
Here are some quotes from this episode that resonated with me:
"That being said, I am a strong woman. I hope this reaches out and lets people know it is okay to speak up."
"I didn't know how to reject what I didn't deserve because I was always shown that I deserved violence… But I don't let that make me feel weak anymore. I am in control of my own body and what all of these men have shown me now is that I am in control, and I choose now to never let anyone like that in again."
"It does not matter how long you wait to tell your story it should be believed, so that we don't have to walk in fear."
Between each story there's a short musical interlude, which allows the listener a few seconds to breath and reflect on what they had heard before a new story began.
There were five stories in Episode "ONE", and though they were all very different, each story had somewhat of a pattern in the way it was told: her story followed by the recognition of her own strength and resilience, ending with encouragement for others, hope, and a thank you.
I thought about the freedom they may have felt leaving those messages. I thought about their voices, and their strength.
I pressed play on Episode "TWO". It was more difficult for me to listen to, more graphic in some instances, more angering. There are 6 episodes in Season One, and I am taking it slowly, but I will keep listening. Season Two is coming in 2020.
One in six women will be victims of sexual assault  in their lifetime. Dig a little deeper and we find a statistic that states that younger people are at the highest risk of sexual violence, however people of all ages are affected. Shockingly, 13% of women who are raped attempt suicide, 21% of transgender or genderqueer college students have been sexually assaulted (RAINN), and 800 women die every day because they don't have access to reliable contraceptives and basic maternity services (Johnson). We may not be shocked to hear these statistics at all. We may be the one of six.
Sexual assault is a difficult subject to speak about, whether or not you have experienced it.  Now, the number of women who share their stories is increasing. Platforms like social media have created an outlet for women to share their stories through words, pictures, videos, art, and more. These women are making themselves heard. They are striving to make sure the rights of women and girls are no longer violated. They are challenging us to think deeply and engage in heavy conversations.
"To the listener: thank you for being here. To the speaker: we hear you, we witness you." -Dakota Johnson
For more information, visit www.theleftear.com or www.rainn.org.
Bridget Benevides | Your left ear is closest to your heart | KXSU Music Reporter