From drawing to your daily dose of foliage, here are some of the things our staff have been up to over the last few weeks.
Abrianna (Pie) Wright: Graphic Designer
Over the Garden Wall x KXSU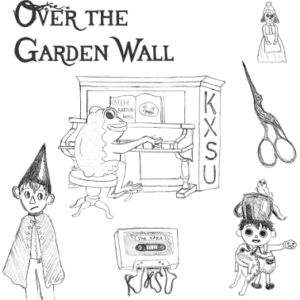 All through quarantine I've been catching up on shows and re-watching a lot of my favorites. In most recent, I've been watching my favorite show Over the Garden Wall (OGTW) as a stress relief during such a troubling time. Over the Garden Wall is a cartoon based on two brothers that get lost in the unknown. It was a cartoon network Halloween special, but I discovered it last year. Since then, I've watched it at least seven times. I highly recommend watching it and hope that it brings to you the same joy that it brought to me. Yesterday, as I was walking into my driveway, I found a rock that was the perfect shape as the rock featured in the show, so I decided to rewatch it last night, color the rock, and draw these kxsu OGTW sketches! And that's a rock fact!
Lily Rodriguez: Music Director
Get Duked! : Gen Z's Comedic Rage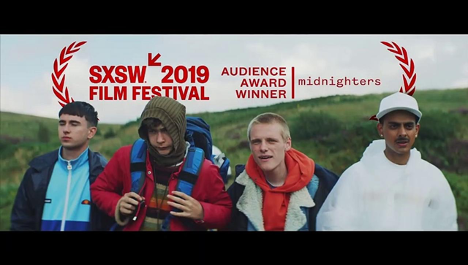 As four rambunctious Scottish youths venture into the Scottish Highlands to complete the infamous Duke of Edinburgh award, Get Duked! perfectly captures the passions, frustrations, and psychosis of a young generation coming of age during a global meltdown.
Starting with the boys getting dropped off in the wilderness as a character-building exercise, Dean, Duncan, Ian, and DJ Beatroot come to the realization that the highlands are not as they seem. The film rapidly evolves into part-mixtape-music-video, part-action-adventure-thriller when the group gets split up by both the challenging terrain and numerous ego battles. With class commentary underlying the entire plot, these city kids come to reckon with the culture of the countryside and become more aware of their place on the social ladder. Insightful dialogues from the teens navigating their way through adolescence are indicative of a deeper cultural disenfranchisement with the contemporary political and economic conditions. While the context of the film is specifically critiquing class division, policing, and racial profiling in the UK, such themes resonate with audiences in the states as well. Basically, when it comes to Gen Z being pissed off at the world that we've inherited, the sentiment seems to be pretty universal.
Not only does director Ninian Doff create a hilarious interpretation of contemporary youth culture in the UK, but he also brings unique filmmaking techniques from his history in the music industry to the picture, channeling the energy from his videos for Run the Jewels, Migos, Royal Blood, and JJ Doom. Transitioning from shots of the gorgeous landscape to mad hypebeast energy, Doff creates an hour and a half masterpiece that keeps you absolutely enthralled. The whole film is a whirlwind with a killer soundtrack, teaching audiences the true meaning of the highlands.
#Farmside
Available on Amazon Prime (free with subscription)
Karina Comes: Productions Director
Juggling Paper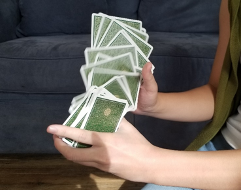 Cardistry. A portmanteau of "card" and of "artistry." I like to think of this as juggling, something I already do and what some have seen me do when we had in-person events. Maybe it's always something to always fiddle with while I do work or lounge around wherever I am but something about it is satisfying—the feel of the cards moving, the sound they make when coming back together, and of course the satisfaction of not dropping them at all. This first came to me while I saw a cousin of mine doing fancy cuts with the cards while we were playing together, and I decided I wanted to learn how to do that too—and so started my interest in cardistry. I mentioned earlier that I like to think of it as juggling since they both involve some kind of object manipulation. Only now, it's pieces of paper that can be thrown around individually or moved together in one larger stack. There are so many different ways that a deck of cards can be shuffled, cut and then displayed before putting them all back together, and people are constantly coming up with new combinations. Over the last few years, it has grown from simply being a fun addition to sleight of hand routines to its own practice where people even design custom playing card decks. Here's me practicing a move called "Waterbend" by Joe Feldpausch that got popular a few years ago now, but I still think it's a graceful move that—true to its name—simply has the cards flowing from one hand to the other. While I'm not able to learn new tricks or experiment with a deck of cards that often as I would like to, I enjoy seeing what different combinations the worldwide community comes up with.
Monika Aha: Director of Engagement
Cheap College Kid Decor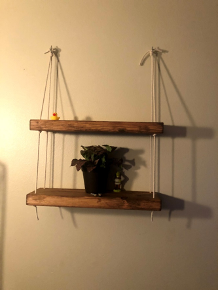 This July I moved into a townhouse with a couple of my friends. We had this big blank wall above our couch and wanted to decorate it, but on a budget. Both of the ideas for our decorations came from items we saw on Etsy that we wanted but decided that we could make ourselves instead. The first was a hanging shelf. We at first only wanted to have one, but once we saw how easy it would be to build, we made three! All we did was go to a local Lowe's and have one of the workers cut an eight foot 2 by 4 board into 5 one and half foot pieces. We also got a wood stain because we thought it would look nicer if it was darker than the natural wood. The other two items we needed was screw hooks and a clothesline style rope. From there, we stained the wood, made screw holes in the wood to push the rope through, tied off the rope to our desired height, and screwed the screw hooks into the wall!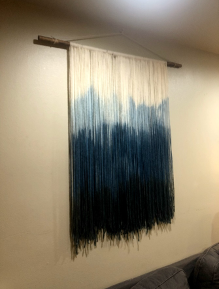 The next project took a bit more time. I have seen dip dye tapestries a lot on Pinterest, but ones that are a bigger size are at least over a hundred dollars. All we did was go to JoAnn's and buy a lot of yarn (it took 4 rolls for us), a four-foot wooden dowel, and some fabric dye to use. It came out to about $40 in all, which I was surprised about. However, I soon found out why it was so expensive because of all the effort it took to dye the yarn. We at first wanted to have it dyed so that it looked like an outline of mountains, but after the first dye of the light blue we noticed how hard that would be. Each time dyeing a new color, light blue to a dark blue, took at least two hours from deciding where we wanted it to be dyed to then having to break it into parts to fit into our biggest pots. It also took multiple days because it had to dry in between each dye session. So honestly, the whole process took a month because of some procrastination. The wooden dowel we tied all the string onto was stained with the same wood stain as the shelves and hung up with extra rope and screw hooks also from the shelves. So, there you go, some cheap décor for the college home that will be lived in for one year. We will have to see who claims them after we move!
Allison Tanaka: Promotions Director
Go Buy a Plant!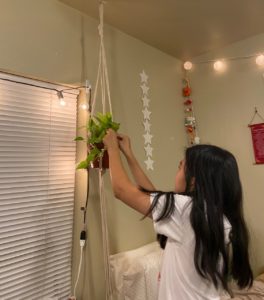 Recently I've been planting! Since I spend most of my time inside now, I've been tending to houseplants and gardens to alleviate stress and as an outlet aside from responsibilities.  Over the couple years, I have collected a couple plants and was recently gifted a palm and pothos for my birthday.  I made a hanging planter (which surprisingly is pretty easy) and have repotted a couple to make sure they have enough room to grow.  It's been fun to watch them change over time and to sustain them.  They light up my room and bring much comfort to the space.  I wouldn't consider myself a plant mom, however, I do try to tend to them often and check on them every day.  My goal is to one day fill my living space with houseplants to the point where it's a literal jungle.  However, for now I am proud of the plants that I have been able to keep alive.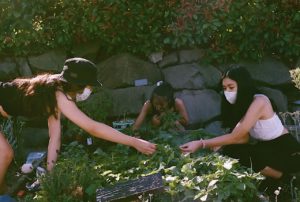 My housemates and I also have a garden plot at the Chardin gardens! We have tomatoes, carrots, squash, cucumbers, bell peppers, and some herbs planted there. It's doing pretty well! We water them every day (because those babies are thirsty) and tend to it frequently to housekeep and remove weeds.  It's a super nice outlet, and I don't think students take advantage of that opportunity very often. Gardening may seem like a lot of work, but I think it's sustainable and keeps you connected to nature in the long-run.  I recommend to anyone to check out the Chardin gardens, adopt a garden plot, or simply go grab a houseplant from your local plant shop.  There's a ton nearby too! Especially during this strange time, it's nice to have a plant friend and connect with nature a little bit.
Check out my garden's account @terracehousegarden 🙂