Photo courtesy of: Domino Music Publishing
Author: Sofi Gonstead
I used to dislike Cate le Bon. Why? For absolutely no good reason. Let me explain.
When my friends and I were at Pitchfork Music Festival in Chicago back in 2019, we were waiting outside the festival grounds when we saw a man standing next to us glance up, his eyes widening. "Cate, I loved your set!" He said excitedly, my friends and I monitoring the encounter. He got no response. Cate le Bon, an artist who I was barely familiar with at the time, was probably tired, busy, and/or preoccupied as she walked by in silence. Needless to say, the man was not pleased with this encounter, and I can't say that he is still a big Cate le Bon fan these days.
At the time, purely out of my misunderstanding of the situation and sympathy for the poor fan, I wasn't particularly motivated to go home and start listening to Cate le Bon. It wasn't until about a year later that I finally came across her 2013 album, Mug Museum that I realized just how much I had been missing out on.
Hailing from Wales, the folk-pop-rocker has toured with artists such as St. Vincent and Perfume Genius, and is one of the most talented musicians, songwriters, and producers in my music library. Her 3rd album (out of a current 6 albums), Mug Museum is the perfect LP for those new-time Cate le Bon listeners. 
I'll spare a bit of your time by only focusing on 3 of the 10 tracks. My top 3, if you will.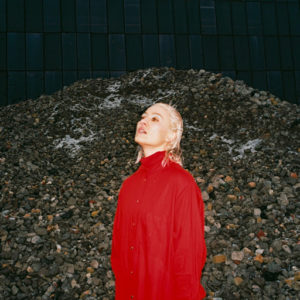 "Are You With Me Now?"
At roughly 4 and a half minutes long, "Are You With Me Now?" is a clear standout song on this album. Not only is it the first Cate le Bon song that ever made it onto one of my playlists, but I still have it on rotation quite often. It is also Cate's #1 most listened to song on Spotify with over 11 million listens.
Ideal time to listen to this song: While enjoying the presence of your friends and/or family at a dinner party. This is a great dinner party song. A tested and proven theory!
"Duke"
"Duke" is arguably my favorite track on this album. It has one of those choruses that is impossible not to sing-along to, and one that sticks in your head long after the song has stopped playing. It ends almost humorously, as she sings the final line over and over, increasingly higher in pitch, until she can't quite go any higher.
Ideal time to listen to this song: Driving in your car when you're alone. It is very important that you are alone during this, as you will most definitely try to sing along.
"Mirror Me"
With slow, haunting vocals, "Mirror Me" is a perfect slow-down as you reach the end of the album. The soft drums and (almost) creepy clarinet perfectly compliment Cate's droning falsetto as she repeats the line "like I want you to see me."
Ideal time to listen to this song: Walking home at night while thinking about your apparent success and the direct downfall of your enemies
If you don't already, Cate le Bon is an artist you should know. With 10 tracks full of catchy melodies, creative lyrics, and a smooth, light, indie-rock feel, Mug Museum is an ideal album for anyone wanting to dive into Cate's discography for the very first time. So, whether you are totally new to Cate or already familiar with any of her other albums, I suggest you give Mug Museum a shot. 
Even if you call her name as she walks by you at a music festival and she doesn't respond.
Sofi Gonstead|Cate le Bon-er|KXSU Music Reporter