Author: Amanda Taylor
Following the Valentine's Day release of Tame Impala's highly anticipated fourth studio album, The Slow Rush in 2020, it was no shock that a second and smaller piece would come out precisely two years later… as this is nothing new for Tame Impala releases. Without a doubt producer and solo artist Kevin Parker's newest work, The Slow Rush B-Sides & Remixes exhibits his groovy, euphoric, synth-heavy production and take on music and continuation of his previous album. Here are my hot takes and analysis of Tame Impala's The Slow Rush B-Sides & Remixes. 
Intro Song: The Boat I Row 
When evaluating an artist's piece of work, I think it's crucial to acknowledge the placement of the songs on the album. The way an artist orders their album isn't by random picking out of a hat, it's carefully constructed and crafted. By paying attention to the order in which songs on an album are placed, it allows me to get a further insight into an artist's mind and creative process. 
The remix album begins with "The Boat I Row", a song that easily connects the B-Sides and The Slow Rush album together. The same experimental synths can be heard evolving The Slow Rush songs, "Lost in Yesterday" and "Is It True", can also be heard in "The Boat I Row". 
Feelings of alienation and being out of place, contemplating life's purpose, and overcoming self-doubt are a few of the common lyrical themes of The Slow Rush. "The Boat I Row" follows suit and exhibits similar lyrics. The first line of the album, "Many ways to go / It's hard to self-assure when everyone's a pro". Followed with the chorus of, "Though it seems to be endless problems… I run 'til I'm breathless / Try to suppress it / I couldn't bear it / So onward I go". Kevin Parker's lyrics encourage the idea that no matter how much self-doubt one may have, you have to continue persevering and "rowing the boat" forward. I resonate and appreciate this (as an intro song) a lot. I think it effectively sets the tone for coming songs and album as a whole. The encouraging and electric tempo is exactly the kind of Tame Impala work that I love to hear. "The Boat I Row" is just the song Tame Impala fans, and myself included, were craving. 
Track 2: No Choice
Second track of the album, "No Choice" was released in December 2021 as a single. I was pleased to hear it then and see it fit nicely within the release of the B-Sides album. Following the previous song, "The Boat I Row", "No Choice" draws listeners into an upbeat psychedelic tune with lyrics of facing feelings of helplessness and lack of direction. 
Lyrics, "There must be something more / Life's a chore / What are we living for?" in the chorus, followed by an exhilarating guitar solo. Similar to many other Tame Impala songs, "No Choice" has a way of making listeners forget the pessimism of the lyrics with its positive and funky tempo. 
When listening to the song, I found myself being left with feelings of nostalgia for Parker's 2012 album, Lonerism. The album experiments with synth elements that can significantly be heard throughout The Slow Rush and 2015 album, Currents, while still staying true to his guitar-heavy predecessor. The same sounds can be identified in "No Choice". Although the B-Sides and "No Choice" uses a tasteful amount of inspiration from Lonerism, it does so in a minimal way while still remaining individual. Something I enjoy a lot with "No Choice" and many other Kevin Parker productions; although the varying releases may be influenced and inspired by one another, no two songs or albums are something fans have truly heard from him before. "No Choice" is a refreshing influenced piece, while remaining to be a fresh production.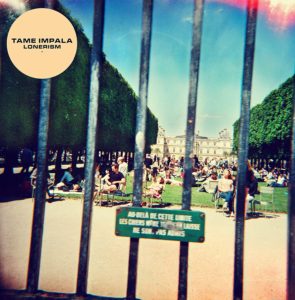 Track 3: Breathe Deeper – Lil Yachty Remix
The Slow Rush version of "Breathe Deeper" is one of my favorite songs off the album, so much so that it was ranked number four for my most listened to songs in 2020. Just two months prior to the release of "No Choice", a version of "Breathe Deeper" featuring Lil Yachty made its way to streaming platforms. My initial thoughts upon the first times of listening: I was honestly shocked to hear Lil Yachty's rapping blended over the spacey synths and Mariah Carey inspired throbbing piano.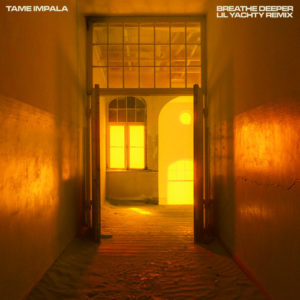 Lil Yatchy takes three verses of the nearly five-minute-long song, each one breaking down the different parts of his relationship with a woman. The first verse describes the initial encounter and attraction between him and this woman, "Baby girl wanna kick it?… Now she rockin', and I'm rockin' / Answer feelin' it out / All that energy I held in / I'm givin' it all out". I especially like the last few words of this line, "All that energy I held in / I'm givin' it all out", because I can consequently identify an order and connection between Lil Yatchy's initial thoughts and intentions when first meeting this woman, to what their relationship and his feelings become, which is soon to be heard. In between verses, the same chorus on the original version remains and is sung by Kevin Parker. The second verse alludes to his budding infatuation and obsession with this girl, "I see stars every time I hold your hand", followed by lines, "you can leave your car, self-drive in a brand-new Benz / Loosen up you guard / Hope this s*** last, I don't want it to end". Lil Yatchy really is, "givin' it all out" to this girl. I love songs, albums, and productions that have a cohesive storyline and recognizable intention with their lyrics. This song scratches my brain just right with its synchronous flow, lyrically connections between verses, and story. A trip on ecstasy is mentioned throughout each verse with lines, "I got a little bit of ecstasy in my feelings" and "DMT rich inside my brain". 
The final and my favorite verse is Lil Yachty confessing his love for this woman and his hopes that the feelings are mutual, "You're all I got, you all I need, don't leave me cold outside to rot". His voice echoes the song out with, "(I hope you still gonna) love me and that you mean it…" I thoroughly enjoy the storyline of Lil Yatchy's verses while the song remains true to the original version's deep dive into Parker's experience on ecstasy. Since the release of the B-Sides, this has easily become one of my favorite tracks off the album. 
Track 4: One More Year – NTS Version
The 18-minute long, previously unheard version of The Slow Rush intro song shocks fans with its presence; taking up a third of the entire 54 minute long album. The elongated and echoed version keeps the most of the same free spirited, living life to its fullest lyrics, "Do you remember we were standing here a year ago? / Our minds were racing and time went slow / If there was trouble in the world, we didn't know / If we had a care it didnt show". In between the verses and chorus are much longer echoing instrumental breaks, giving the song its length.
After spending nearly an hour listening to the song three separate times, I have to say that I favor The Slow Rush version more. I love the reverberating synth that can be heard throughout, which sounds to be muted in the NTS version. With that being said, I can't hate on the experimental track too much, as that is exactly the purpose of the B-Sides & Remix album versions, to give fans an insight to Parker's work that may not have otherwise been on an official album. 
Track 5: Patience – Mauriace Fulton Remix
The 5th track on Parker's experimental release is an extended six minute remix of Patience, the song that concludes the album. The majority of the song is a further insight to Tame Impala's drum exuberating rhythms and reverb variations. The track begins with a profoundly vocalized version of the outro heard muted in "Patience". The lyrics, "It's always drive straight, don't be late, 'cause time waits for no one", referencing Parker's feelings of pressure to act in accordance with the world and people around him. Another interpretation of these lyrics relates to a common lyrical theme throughout The Slow Rush, which is the importance of making the most of your time and life. The "Mauriace Fulton Remix" sounds to be a mix of Tame Impala's many different production characteristics put into one experimental song. After hearing the original "Patience" years ago, it is a song that would be a challenge to top with a remix. Though I always enjoy an artist's ability and willingness to try new productions and musical techniques within their work, which I can easily hear and recognize in this song, I prefer the earlier release of the song and last track of the album, "Patience". 
Track 6: Is It True – Four Tet Remix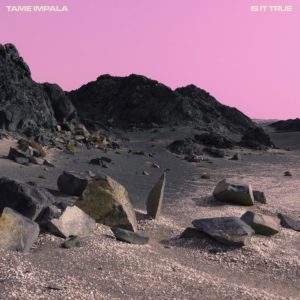 With a nearly 180 switches on The Slow Rush's funky "Is It True", the "Four Tet Remix" induces a more dream-like version to the song. In this version, Tame Impala's first ever saxophone appearance heard on "Is It True" is replaced with a smooth synth rendition. The lyrics and storyline remain the same, "from the perspective of someone who shuts out love because they're afraid of the future". According to Tame Impala's "Spotify Song Storyline".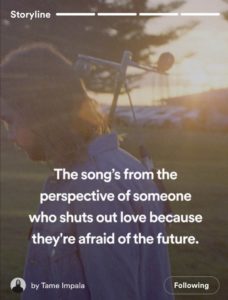 I'm not sure if I can depict my preference of the two "Is It True" songs. They both have their own very different productions which are hard to compare. I think I will find the most enjoyment when I listen to each when in my varying moods. "Four Tet Remix" will definitely be accompanied with feelings of tranquility and when I crave more ruminative sounds in comparison to the buoyant tunes heard in the original version.
Track 8: Borderline – Blood Orange Remix
This is not Kevin Parker's first, or second version of "Borderline", but his third rendition. The first version was released in 2019 as a single. The song has since been taken off Spotify and a reworked version landed itself a spot on The Slow Rush.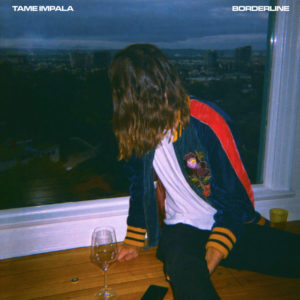 Artist, Blood Orange and Tame Impala's collaboration comes as a shock with being a cinematic slow production of the previous electrifying versions of "Borderline". In 2019, I saw Blood Orange open for Tyler, The Creator and upon hearing him, I immediately knew I wanted to explore him as an artist further. I found myself absolutely loving his 2018 album, Negro Swan. I always appreciated his ability of playing around with varying synths while making a masterpiece of a song. Never would I have thought to hear a collaboration from him and Tame Impala. Blood Orange's typical indie hip-hop, slow synth production can quickly be identified within the chillwave version of Parker's classic. 
The seven-minute track manipulates the order of the lyrics ever-so-slightly while keeping the chorus' intact. The lyrics dive into the reality of a relationship being on its final stretch while contemplating the meaning and actuality of love, "Will I be known and loved? / Is there one that I trust? / Starting to sober up / Has it been long enough? / Will I be so in love?" In many ways, this remix of "Borderline" is incomparable to the version on The Slow Rush, due to its drastically altered tempo and production. The two feel as though they are very different songs. To this day, I still hold a special place for the original variation of "Borderline". However, a song with both Tame Impala and Blood Orange's alternative synth productions is a collaboration fans didn't expect or know we needed. 
Final Track: Patience 
Concluding The Slow Rush B-Sides & Remixes album, "Patience" provides listeners with another track on the debacle and ever-changing perspective of time. "Patience" was first heard in 2019, a month before Tame Impala's first version of "Borderline". I can't think of any better song to fit as the concluding album song, "Patience" flows and wraps up the album elegantly.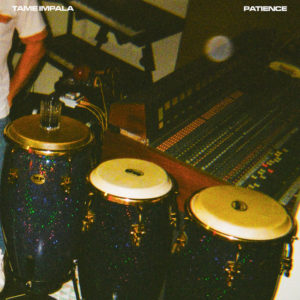 The disco-inspired track further elaborates on Parker's typical synth exploration while incorporating new and vibrant piano chords. Expected of Tame Impala lyrics, Parker sings about his altering perception of time and presumingly getting older. First lines, "Has it really been that long? / Did I count the days wrong". This is one of my favorite Tame Impala (at the time of original release) singles. I love that the refrain and chorus provide fans with relatable lyrics, "Just growin' up in stages / Living life in phases / Another season changes / And still my days are shapeless". Once again, Kevin Parker has a technical way of suppressing the tender lyrics with his optimistic rhythms. 
My Overall Thoughts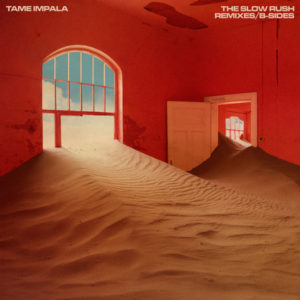 The Slow Rush B-Sides & Remixes contains numerous new tracks that fans were anxiously expecting with Parker's routinely B-Sides release. Introductory track, "The Boat I Row", sets the character for the upcoming songs and significantly stands out beyond the rest of the tracks for me. Taking into account its placement on the album, mysterious bullish-like synths, and lyrics that concretely connect The Slow Rush to the B-Sides album, "The Boat I Row" has to be my favorite off the album. An intro song has the potential to set the character and tone for the upcoming songs and album as a whole. In my opinion, ​​"The Boat I Row" is greatly placed as the introductory song. Following, the B-Sides further elaborates on Parker's experiences with psychedelics and his complicated perception of time, while stringing listeners along with his journey of acceptance and living life to its fullest.
One of my favorite aspects of any B-Sides & Remixes release is the ability to hear a little more into Kevin Parker's empirical ways of creating music. I feel as though I'm getting a different angle insight into Parker's mastermind through his varying musical productions. Sometimes I feel as though Tame Impala's remix albums aren't as appreciated and rather overlooked by fans more often than they should be. As they are typically a very experimental album and not always danceable or sing along songs as Parker's other works tend to be, they are still worth listening to. After a few listens of The Slow Rush B-Sides album, I find myself taking more of a liking to his previous remix album, Currents B-Sides & Remixes. Both albums flow smoothly off of their previous albums which have distinctly differing lyrical and musical themes. With that, the 2020 record, The Slow Rush is one of my favorite albums of all time and played a significant role in my later upbringing and love for analyzing music. Album wise, I prefer The Slow Rush album over Currents and as far as B-Sides albums go, I prefer Currents B-Sides over The Slow Rush B-Sides. I have a deep appreciation for an album with a storyline, which most​​ Tame Impala albums provide, The Slow Rush B-Sides & Remixes is no exception. Taking into account the new experimental dream-like synths, new collaborations, and continuous storyline; The Slow Rush B-Sides & Remixes album is worth the listen. 
Amanda Taylor | Long Time Tame Impala Lover | KXSU Music Reporter