Photo Courtesy of Svetlana Sohoni
Author: Svetlana Sohoni
Seeing Death Cab for Cutie has always been on my bucket list. When I moved to Seattle my freshman year, I tried and failed to get tickets for their 2019 tour because it sold out so quickly. Being a band from Washington, formed in Bellingham and established fully in Seattle, I knew that seeing them in Seattle would be something special.
Death Cab for Cutie's discography can bring me through a whole rainbow of emotions. When I listen to their older songs on Plans and (my personal favorite album) Kintsugi, it is filled with vivid images from my childhood where the band seemed to accompany my life almost like a soundtrack. I remember driving to elementary and my dad playing Plants and constantly pointing out the lyrics. "Svetlana, listen to this part, it's so well written," he would say, and I slowly started to understand. So, when they announced their tour this summer, I got the presale list and snatched up tickets for my dad and I so we could see them play their hometown show together.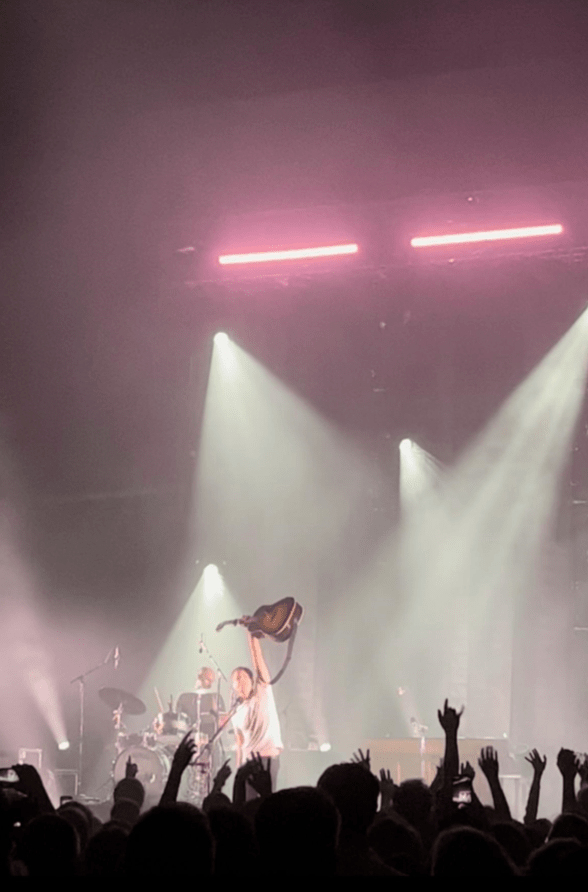 Their set was a mixture of new songs from their "Asphalt Meadows' ' record with several of their older and more known songs from Plans, Transatlanticism, Narrow Stairs and Kintsugi scattered throughout. The sound got better and better through the set, and the signature sound that Death Cab is known for came through beautifully: poetic lyrics, beautiful guitar to accompany, and thoughtful drums. They never have anything extra in their music; just the perfect amount of embellishment needed to make you really stop and listen. This came through beautifully throughout the entire set. The crowd was invested and I was too. Their most recent album, Asphalt Meadows, was a large bulk to the set (being their most recent release). although I had not listened to it thoroughly, the songs were a welcoming surprise. Some standouts from the album played during their live set were "Rand Mcnally" and "Pepper." Their signature simple guitar melodies and clear vocals and vibrant lyricism were reminiscent of the older Death Cab albums and the artistry they are so well known for.
Some absolute highlights for me were "Crooked Teeth" and "Black Sun." Hearing music I grew up listening to live was something I will remember for a long time and their cohesiveness as a band and inclusion of songs from all their albums to date made it even better. It was a very special and nostalgic night in the audience and, cheesy as it sounds, there were few dry cheeks by the end of the show. There is nothing too showy or glamorous about this band, but the live set proved undoubtedly that their music is all they need to get our undivided attention.
The lead singer, Ben Gibbard, reminisced on his time spent in Seattle and Washington, where he wrote the majority of his older songs. There was something very special about getting to imagine that he walked the same streets we walk on everyday and poured all those experiences into his music. Their four song encore was a generous ending to a fantastic set and I am very grateful I got to share the night with my father and see one of our favorite bands together.
Svetlana Sohoni | KXSU Music Reporter