Photo Courtesy of Amanda Taylor
Bainbridge Island
Looking for a little getaway from the city? Just a 20-minute ferry ride away lives the joyous Bainbridge Apothecary & Tea Shop. Only a few blocks from the ferry terminal and in the heart of Bainbridge's downtown is a tea shop like no other. Bainbridge Island is one of my favorite places to make the day trip whenever I get the opportunity. Though, it wouldn't be a classic Bainbridge trip if it weren't for a pitstop at my favorite tea shop.
Unmatched Vibes
Upon entry, the employees welcome guests into a warm and familiar shop. Alongside the wall are large table booths, perfect for resting and spending the afternoon with a teacup in hand. My most recent visit to the tea shop was in mid-July, this past summer, where I spent my afternoon sipping on multiple refreshing glasses of herbal tea. As I was enjoying a blissful afternoon, I was accompanied by a furry friend.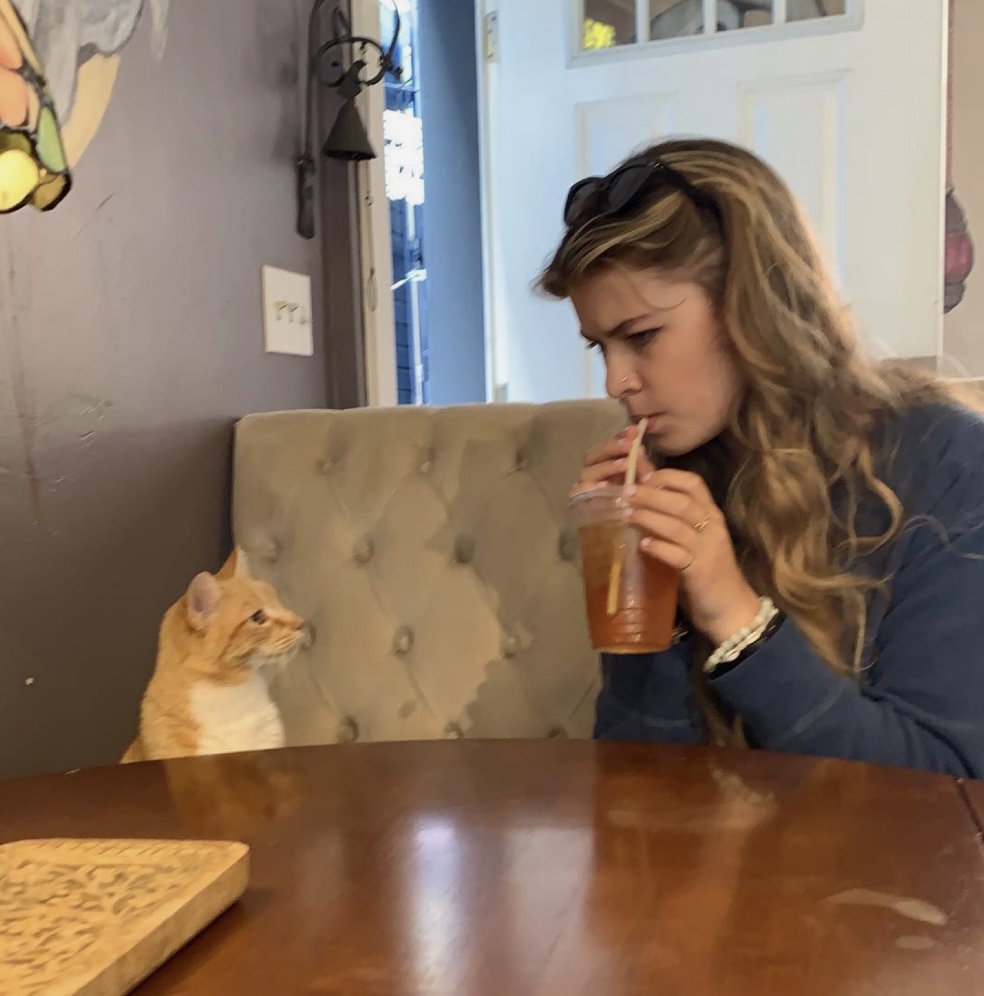 This beautiful orange kitty joined me in my booth for quite some time. The sweet animal made the shop even homier. 
Great Conversations 
The owner of the establishment was very kind and never let my teacup get a third of the way empty, always refilling and suggesting a new tea to try when getting the chance. With over 50 tea options to try, my three refills were hardly enough! After spending hours sharing various life experiences with the employees, I felt comfortable, warm, and welcome in the shop. You could feel that their love for customers, the Bainbridge community, and tea was nothing less than genuine. 
Next Visit to Bainbridge 
Bainbridge Apothecary & Tea Shop is not one to miss on your next excursion to the island. The tea shop also hosts afternoon tea sessions, where you can book a couple of hours in a private sun room to have high tea and finger pastries. Next visit, I will definitely be attending a high tea session! Check out Bainbridge Apothecary & Tea Shop, and if you're lucky, the sweet kitty will greet you at the door. 
Check out Bainbridge Apothecary & Tea Shop's Website! ​https://www.bainbridgeapothecaryandteashop.com 
Amanda Taylor | Always Looking to Escape to Bainbridge | KXSU Music & Arts Reporter