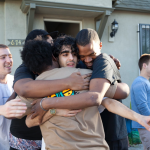 Photo by Cameron Cuchulainn
In a country with such a constantly uncertain future, hip-hop's traditionally naked masculinity provides a safe and comfortable substitute to cultural and gender dysphoria, similar to how an authoritative ruler may be preferable to anarchy. This said, it is awfully ironic how many times rappers have referenced Donald Trump's financial success in comparison to their own in their lyrics since the 1980s (more than 67 times), until Trump's presidency drastically changed their demeanor towards him.
Recent waves of hyper masculine Soundcloud rap this year can be seen as the natural consequence of convincing boys to simply suppress and reject their nature without understanding or integrating their male psyche in any way. Rappers like Lil Pump express their masculinity in a simplistically degenerate demeanor, repeating the same drug-induced lyrics for most of his songs while artists such as XXXTentacion alternate from crazed misogyny laced in distorted production to shallow emo-folk attempts at expressing his desolation. The underlying rebellion against millennial norms is either released in emotional oscillation or numbed out by Xanax. Many see this new Soundcloud scene as hip-hop's punk phase, rejecting society and the rules laid down by hip-hop's predecessors in favor of a more primitive, independent, and often amateurish approach. Personally though, I find it surprisingly easy to get lost in the catchiness of these artists without realizing if I enjoy the lyrical topics ironically or post-ironically.
On a more somber note, drug abuse is a serious problem in the modern music industry; there's no doubt that many rappers glorify it. The number two song—Post Malone's "Rockstar"—on Billboard's Hot 100 list is about 'popping pillies' and feeling like a rockstar. Unfortunately, a popular response to drug abuse is to demonize addiction as simply a vice needing to be persecuted. Last month, rapper Lil Peep passed away from a Fentanyl-laced Xanax overdose while on tour. He was 21-years-old and on the verge of blowing up into the mainstream with his unique genre bending emo-rap. What we need to understand is that this was not entirely an abuse issue—most of Lil Peep's discography was a cry for help.
There's no way to figure out what was going on in Lil Peep's head, but it's clear that his lyrics weren't just for an aesthetic appeal. Addiction and depression are often intertwined and it's most likely that Lil Peep used drugs to cover up the chemical imbalance in his head, which he stated in an interview with Pitchfork:
"I realized it was just myself—it's a chemical imbalance in my brain. Some days I'll be very down and out, but you won't be able to tell, really, because I don't express that side of myself on social media. That's the side of myself that I express through music. That's my channel for letting all that sh*t out."
With such a heavy stigma on mental illness in society, where addicts are treated as criminals in our legal system, Life can easily imitate Art and hip-hop becomes a false haven of justification for self-medicating. Nowadays, drug use is so normalized and exploited in society that it's vital to understand—no one is truly looking out for you except yourself.
Over the past six months, rap collective/boy band Brockhampton has released three fantastic albums which touch on topics usually avoided in hip-hop. "JUNKY" off Saturation II, for example, provides a great job of analyzing the inner demons one faces from homophobia, confronting one's own sexuality, drug abuse, suicidal thoughts, and the difficulty in choosing personal passions over higher education (and this is all in one song).
In many ways, Brockhampton embodies the millennial experience in the most brutally honest way possible. Before their first Saturation project, I don't remember a time where explicitly rapping about being gay was socially acceptable in hip-hop. Full transparency in lyrics, along with an outlet to pour angst into, is important in our day and age and I'm glad Brockhampton balances these features so tastefully in their Saturation trilogy.
2017 has been an amazing year for hip-hop. Here are some more artists broadening the scope of the genre, sonically and topically, that I'm excited for in 2018:
Danger Incorporated – "Ashley Olsen"
Yung Lean – "Red Bottom Sky"
clipping. – "True Believer"
Princess Nokia – "Brujas"
Danny Brown – "Ain't it Funny"
---
SEVA GALITSKIY | KXSU Music Reporter