The Deals, 1993, by Jeff Kravitz
Depending on your level of coolness and obsession with 90s Grunge, you may or may not have heard of Kim Deal. I grew up revering Kurt Cobain, who in turn, really admired a little band called Pixies and their bassist, Kim Deal. What I didn't know until later, when I started listening to Kim's band, The Beeders, was that she has a twin sister. So, if you already knew who Kim AND Kelley Deal are, you're far cooler and more knowledgeable than me. Hit me up, let's chat.
Kim and Kelley Deal started their joint musical career in high school, when they performed at the local bars in their hometown of Dayton, Ohio. Two eerily similar-looking girls and an acoustic guitar were said to move tough biker dudes to tears with covers of country songs. They built a recording studio in the rec room of their parents' house and jammed together for hours.
Eventually, Kim moved to Boston with her husband and replied to an ad for a bassist. Growing up, Kim had mostly played guitar and Kelley played the drums, but that didn't stop Kim from learning quickly and joining the band. Kelley had the opportunity to join on the drums, but turned the opportunity down because she had a job that she couldn't just leave. Plus, she wanted to be in Kim's band, which the Pixies definitely was not.
Kim was forced to play a supporting role in the Pixies and received little recognition for her abilities. This factor was a shame because, in the shared opinion of Kurt Cobain and I, "Gigantic", a song written and sung by Deal, is one of their bigger hits and best songs. Had Kim been given more liberty to write and sing, perhaps her departure from the band would've been delayed. Yet, in 1990 while touring Surfer Rosa, Deal began writing new material and toying with the idea of a side project, that would eventually become The Breeders.
The first Breeders album, Pod, is a beautiful and occasionally incoherent explosion of Deal's pent-up frustrations from being a beta in Pixies despite her popularity with their fans and her own yet-to-be-realized songwriting ability. The album sounds like nursery rhymes sung aggressively over simple drums and menacing guitar riffs. They're weird and glorious, but The Breeders had even more to offer.
Kelley wasn't in The Breeders during the Pod era, but joined after on lead guitar, which she didn't know how to play. With her sister's faith and her own musical ability, she kind of got the hang of it for the next Breeder's album, Last Splash (1993), which slammed the band into a bigger spotlight than they were ever expecting. They opened for Nirvana, played Lollapalooza, and their single "Cannonball" reached No. 44 on the Billboard Charts.
I don't think this success could have been possible if Kelley didn't join the band. Starting early on, the twins were one another's closest creative partners. They were born 11 minutes apart and share a bond few will ever understand, which contributed to how much of a necessity it was for Kim to have her best friend by her side during the songwriting process. Admittedly, Kelley plays a bit of a subordinate role in The Breeders, as Kim is credited with most of the lyrics, but Kelley was ever-present as a supportive companion and collaborator. The gentle comfort of having her twin there must have allowed Kim to step outside of her comfort zone and pushed her to write an amazingly catchy song like "Cannonball" and more vulnerable, "Do You Love Me Now?" a song written by the twins in their early days while making tough dudes cry.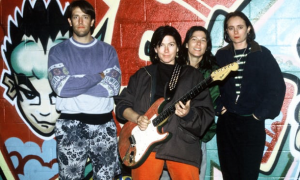 Whose band is it anyway? To an outsider, it would seem clear that The Breeder's is Kim's band, but the way the twins' brains work is such an interconnected mystery that it's more like, Kelley's band that she lets Kim think is her band, while actually pulling the strings from behind the scenes. Or, from Kim's perspective, her band that she lets Kelley think she is somehow controlling, but Kim is actually in control, yet doing everything her sister is encouraging. Either way, their main goal is to have fun and make music together.
The success they saw from Last Splash hit a bump in the road when Kelley was busted for heroin and faced jail time. Kim decided that as badly as she wanted her sister in her band, she couldn't be in the band and be on heroin. Eventually, Kelley went to rehab and not jail, but expressed the anger she felt towards her sister for kicking her out of the band. After she was clean, she didn't WANT to be in the band because her sister and other bandmates were still partying. This lead to even more dislike directed towards Kim, because at this point, Kelley did not      want to place herself in that environment and didn't want her sister there either.
The sisters kept their distance until they couldn't anymore. Kim followed in her big sister's footsteps and went to rehab in 2002. Then Title TK (2002) was released about nine years after Last Splash and the twins were back at what they did best. The chaotic call and response lyrics and simple, yet loud and rhythmic instrumentals are so dang good. The lyrics on songs like "Little Fury" and "London Song" are clever and weird. Everything Kim wrote was quirky and fascinating, you have to wonder just what she means. There are plenty of allusions to blacking out and making poor intoxicated decisions, which was an obvious reflection of her experience during the 90s. Plus, the more stripped down "Off You" is such a gem about living in different places. The album is also littered with references to things from the Deals' childhood, like "The She" which is named after a nightclub their older brother used to go to. Little nuggets like that are things that could only come out during the writing process when they were together because they had so many shared experiences that an outsider would never truly relate. The twins had been through so much and relied on one another more than ever in the face of their mother's Alzheimer's diagnosis and the general struggle to stay sober.
A few years later, the Pixies joined forces once again for a reunion tour. Kim had Kelley join her on the tour to be a female companion because times can get tough on the road when you only have a bunch of guys to talk to. The twins are interdependent and have a system of taking care of one another that is beyond selfless. The role of caretaker changes every day depending on who needs it at the time. They understand one another better than anyone else on the planet.
With no children, both women are free to focus on their creative pursuits and nothing gets in the way of their bond. Kelley traded heroin for knitting and her pieces can be viewed here. Kim has been in several bands, has served as a producer, and as a partial caregiver for her mother.
Most recently, The Breeders put out a new single called, "All Nerve" which features a mature sounding Kim, who still rocks. It has been a long ride for The Breeders to get to this point, but they still sound so good. The original Last Splash lineup will be releasing All Nerve on March 2, 2018, on 4AD. This will be the first Breeders album in ten years and if the first single off the record is any indication of how it'll sound, I'm sure fans will not be disappointed. I'm amazed by the quality of work they've been able to produce over their 28 years of existence, which can only be attributed to the loving, competitive, and creative relationship between the twins.
"All Nerve" can be found on Spotify and you can keep up with The Breeders on Facebook!
HALEY PARSONS | Pretty ironic that the Deal Twins are Geminis | KXSU Music Reporter