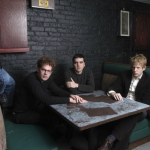 Photo by Paul Natkin/Getty Images
Imagine having "Spoon" as the name of your band. Every time people look you up on the internet, they see pictures of utensils or packages of spoons. There are many bands such as "Yes" or "CAN" that capture this concept: the obscurity and rather vagueness of the band's name reflects their tendency to stray from the mainstream. Spoon (the band) falls under this category. Their unique name parallels with their unique sound—the rest is history.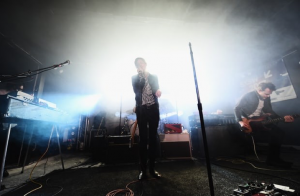 Formed in 1993 in Austin, Texas by Britt Daniels (vocals and guitar) and Jim Eno (drums), Spoon released their first album, Telephono, in 1996. Telephono is filled with raucous guitars, sharp vocals, and an intentional messy sound. They introduced a raw, post-Pixies and Pavement sound that embodies friction and weirdness. Their 1998 album, A Series of Sneaks, stays true to their frenzied, sharp vocal and instrumental melodies. They utilized their experimental nature to introduce more innovation and fluctuation into the music world. Songs such as "Reservations" or "Metal School" express their rough guitar riffs and insistent vocals. The brevity of Spoon's songs is never lost, as they fused pop undertones with sharp, intensified quick paces. The guitars drone in accordance with the fast-paced, penetrating guitar, and one is reminded of a newly-developed punk, rock, pop propulsion that maintains a personal, highly idiosyncratic musical experience.
If you like bands such as Built to Spill, Pavement, Pixies, The Shins, or Dr. Dog, you'll love listening to Spoon. The great thing about Spoon's music is that as each album is released, you're able to hear new musical styles, discoveries, and explorations. Their earlier work is more of a rock, punk, scattered sound. When listening to albums Telephono or A Series of Sneaks, one's inner rock god or goddess comes out; you'll feel super pumped and edgy. However, after releasing their 2001 album Girls Can Tell, one can hear their indie-rock, chiller, folkier sound—the song "1020 AM" even sounds remotely like Simon & Garfunkel. One of their most recent albums, Transference, is crisper and simpler, however, underneath their funky, slow grooves, the darkness of the lyrics shines through: "I don't know what love is anymore" is a perfect example. In their most recent album, Hot Thoughts, one can hear the same sound they have mastered over time through guitar riffs or Daniels' synthesized, distorted vocals, but they also introduce a new style—a disco rock sound that followed bands and musicians such as Tame Impala or Phoenix.
Spoon has been together for nearly 25 years and is still creating and performing new albums. Their discography is so consistently influential, impactful, and impressive in the music world/industry and they have proved to us all that they are one of the best rock bands that have happened in a long time. Spoon's music portrays their ability to master so many musical fronts and styles, making them fall into a copious number of genres and depictions. Each one of their albums lets you in a little bit closer to their own personal lives, minds, and selves. Their energy and artistry spells out a pure beauty. While their music may be scattered, harsh, distorted, funky- you name it-, the true seductive musical power they possess is beautiful.
Opening for Spoon both nights is Louisville based pop-rock band White Reaper who recently released their sophomore album The World's Best American Band in 2017. Pitchfork called it "smart, well-polished, and cheeky-loaded with more riffs than you can fit into the trunk of a Camaro" and they aren't the only publications giving this album praise (Newsweek named The World's Best American Band one of the great overlooked albums of the year).
Spoon and White Reaper will be playing at the Showbox in Seattle on January 11 & 12. This all-ages event is SOLD OUT on both nights. More information can be found here: http://www.showboxpresents.com/events/detail/343789
Photo by Zackery Michael
EMMA WEAVER | KXSU Music Reporter