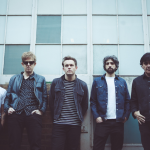 Photo by Rachel Lipsitz
As I stood in the incredibly populated crowd at The Showbox, one main question came to mind: Was all this pushing and shoving worth it? The diversified sea of people – married couples engaging in slightly uncomfortable displays of their love for one another, middle aged men fist pumping in the air as their patience was wearing thin, younger fans sporting the merchandise sold at the door – was incredible overwhelming and disheartening.
As soon as all band member (save Britt Daniel) entered the stage, I found my answer: Yes it was well worth it. Despite being pushed by a man's stomach, purposefully, the raw vitality and unique funk bled so beautifully into the sea of entranced fans. Immediately we were serenaded by acerbic, sharp guitar riffs on a dimly lit stage. The slow austerity abruptly ceased as bass and bright light shot across the stage, revealing Daniel. Spoon was bathed in beaming purple light that captured the unique funk within Spoon. They began performing "Do I Have to Talk You Into it" and the combination of the booming drums, Daniel's clear, yet growling voice and intense guitar ostinato made me reminisce about their rather loud, brash melodies, but simultaneously appreciate their new discography.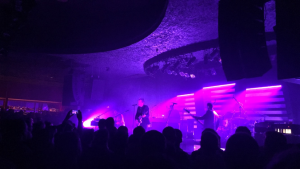 What really needs to be understood and recognized is the fact that Spoon has been active for approximately 24 years and just released a new album in 2017. Typically, as bands age, their charm and original image fades. However, this is not the case with the Spoon. Not only have they preserved their reputation for flair, but have expanded it. The all-consuming verve and passion within all of Spoon burrowed deep within our hearts that night. As I watched middle aged men and women jump up and down to "I Turn My Camera On", a group of twenty year olds guys all dance in a confined group, and even people's beer swaying up in the air to the dreamy rendition of "Inside Out", I found myself grooving to the driving baselines, heavyset drums, and soothing vocal tones.
While they were promoting their newest album, Hot Thoughts, Spoon did a great job in diving back into the past. They performed songs such as "Everything Hits At Once" from their 2001 album Girls Can Tell, or "I Turn My Camera On", which confirmed their ability to stay true to their original sonic intensity and fuzzy distortion. They have adopted a rhythmic sound similar to bands such as TV On The Radio and Arcade Fire, but will always include their Pixies, Tom Petty, and Elvis Costello tendencies. While the crowd was divided up into older album enthusiasts and newer album enthusiasts, there were a still unifying force present, and it was based around the astonishment that Spoon was still rocking the stage and audience.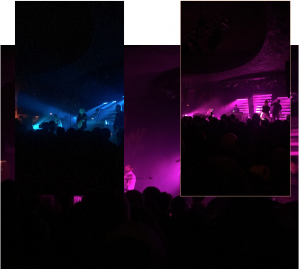 "Via Kannela", a instrumental interlude, served as an eerie, calming brief break for the band. It was essentially a lengthy intro for "I Ain't The One" that allowed for Alex Fishel to take the spotlight on the synthesizer. A silhouette of Fischel gleamed on stage underneath a radiating blue light, and as the piano began to cut in, the band yet again took the stage as a whole. Daniel started to sing "I Ain't The One" with his rasping voice underneath a dimly lit blue stage, oozing pure seduction. They ended with "Got Nuffin" from their 2010 album Transference, which has one of my favorite song of theirs: "Out Go the Lights". As Daniel's booming voice and guitar played alongside Brian Eno on drums, I was reminded of the true mastery within the two original members.
Spoon encompasses many aspects and styles in the musical world, yet still adheres to consistency. While their songs incorporate an impressive integration of cathartic, raucous, slick, and boisterous melodies, their bravado has always been there and always stays true to the structure and disposition of Spoon. After the concert, I was left thinking about the very basis of longevity. How do you uphold longevity? How does Spoon uphold longevity? How does Spoon remain so wonderfully talented and intoxicating, even after 24 years?
EMMA WEAVER | KXSU Music Reporter
Set List
Do I Have to Talk You Into It
Inside Out
I Turn My Camera On
WhisperI'lllistentohearit
The Beast and Dragon, Adored
Don't You Evah
Do You
Via Kannela
I Ain't the One
Everything Hits at Once
Can I Sit Next To You
My Mathematical Mind
Don't Make Me a Target
The Underdog
Got Nuffin
Encore
I Summon You
Hot Thoughts
The Fitted Shirt
Rent I Pay