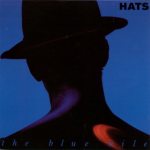 Album art for Hats by The Blue Nile
A person very dear to me listens to albums start from finish and only focuses on that one album for a while. I often times don't do this. Instead, I listen to a few songs from an album and add them to a playlist with a wide variety of other music. Recently, I have been listening to albums exclusively from start to finish and really soaking it all in—I highly recommend it. I have been listening to albums with certain songs I absolutely love, but don't necessarily know the entire discography and one of these albums is Hats, by The Blue Nile. I was amazed with what I heard, felt, and took from this experience. I want to take the time to fully explain why everyone should give Hats a listen.
If you want to explore the highs and lows of love and life (which, frankly, all of us do), you should be listening to this album. The Blue Nile is a band from Scotland, that has been active since 1981. In 1989, they released their second album, Hats, which has since gained a large fan-base and cult status. Hats has many, many layers that pull you in deeper and deeper. We see ourselves through the lyrical and melodic renditions of isolation and love, as they reveal the face of a typically faceless sentiment. The album begins with "Over The Hillside", a dreamy, dulcet stride towards fantasy and the desired unison of two people: "Over the hills and home we'll go / Tomorrow I will be there / Oh, you wait and see".
The second and third songs, "The Downtown Lights" and "Let's Go Out Tonight", both adhere to the rather poignant and atmospheric energy projected. "The Downtown Lights" includes the lyrics, "Sometimes I walk away/when all I really wanna do is love and hold you right" and "Let's Go Out Tonight" sings, "Be mine all mine / Baby I'll be good / Pray for me / Praying for the light / Baby baby / Let's go out tonight". These are the lyrics we find ourselves daydreaming of, as they slowly creep into our minds permanently. Their music is a beautifully performed series of sonic contradictions that form the basis of our poetic, artistic, and emotional yearnings and curiosity.
"Headlights On The Parade", the fourth song, is a shift from the previous rhythmic rendering. The Blue Nile utilizes the fast-paced and upbeat piano, synth, and drums to offer the other dimension of this album: euphoria. This album's paramount significance and message is that of stasis. Listeners are open to their own interpretation and this is so evident and relatively easy, as The Blue Nile sings of defeat in many different voices. I listen to this album in the shower, at 4 AM, at 12 PM, when I am crying, when I am happy… the list goes on and on. Its versatility holds the power over us all. "From A Late Night Train", the fifth song, captures the person in all of us who has come to terms with loss and defeat, but can't move on: "It's over now / I know it's over / But I can't let go". This song utilizes the piano this time to match the wavering, low voice serenading the relentless, but hopefully temporary despondency in us all.
"Seven A.M." typifies the difficult hunger for love: "Where is the love?" he sings. "Seven A.M." embodies a funkier, sharper sound than the prior songs. This song relies heavily on the synth, making us all move in accordance to the groove. It's dreamy, like the other songs, but there's something different about it, that represents their beautiful disparity in melody.
And last but not least, "Saturday Night" is a dream like wonder world and the perfect conclusion to the perfect album. This song captures the love for an "ordinary girl" and the very notion of reciprocity—reciprocal love that is. "Who do you love? / Who do you really love? I love an ordinary girl / She'll make the world alright / She'll love me and I know / Love is Saturday Night".
It is pertinent to acknowledge that we live in a world of beauty, hopefulness, expression, and acceptance, but also pain, loss, and unfulfilled desires. Music and everything it is made up of should inspire us to tap into our own artistic and expressive sides. This album captures all in the art/music world that is beautiful- mainly the human and emotion within us all, something sometimes forgotten or misrepresented. Their music is a sonic nuance and will sit well with you. Their music is also a reminder of the inevitable pain we all will experience, especially on the love front, but solidifies the notion that we are not alone.
EMMA WEAVER | KXSU Music Reporter