Author: Karsten Kohout
Bass music is a genre with few aesthetic consistencies.
That's not to say that every other genre of music lacks variety.  Run the Jewels is different than Ski Mask the Slump God, Lady Gaga is different from Maroon 5, and Mac DeMarco is different than Car Seat Headrest.  Music, from an artist's perspective, is all about how you can distinguish your sound from someone else's.
Yet, even compared to the most contrasting artists in a given genre, I would still say that bass music as an entire genre has an especially wide-ranging creative field.
Do you want skull-crushing production that will leave your grandparents asking what went wrong with this generation?  Here's Calcium.
Do you want emotionally evocative super-saw chords intertwined with gritty bass patches?  Here's Chime.
Do you want tightly packed production with tasteful bit reduction on top of stadium-sized 808's?  Here's Tynan.
How about all of them plus more on the same stage at once?  Sure, that already happened.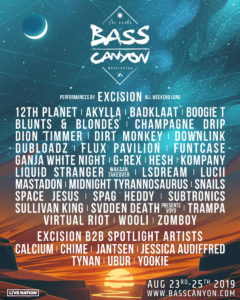 Bass Canyon 2019 was capped off with an artist spotlight session that included the three already mentioned artists, Jantsen, Jessica Audiffred, YOOKiE, and this week's guest, UBUR.
24-year-old Fountain Valley, CA resident Maxwell Hadden's contribution to the bass music cornucopia under the name UBUR has thus far been a combination of unrelenting heaviness and nostalgic growl-based production.
Check out his brand-new track "Mind Control" here!
I say thus far because, since I found him via his track "Bad Drip" on the Welcome to Heck EP, he has continually evolved his sound and shown just how much he's capable of sonically.  His recent Painful Choice EP stands as proof of his production talent, as it features three tunes that each masterfully tackle a distinct subgenre of bass music while still staying true to the "UBUR" aesthetic.
Even after an entire weekend of unique sets at Bass Canyon, UBUR's artist spotlight still sticks in my head as a distinctive highlight.
Max has been a staple on major festival lineups and nation-wide tours since his major label debut in 2017, and with his constant output of quality tracks, I doubt that will change anytime soon.
Recently, I sent bass music's resident Long Boy and Smash Bros enthusiast some questions:
Jus chillin pic.twitter.com/a6XMy4reF1

— UBUR (@uburdub) March 3, 2020
Karsten Kohout: Hi Max!  Thank you so much for taking the time to do this!  Over the past year or so, you've flexed your production muscles and switched between multiple genres of bass music while still retaining the core "UBUR" sound.  What would you say the constant or signature in your productions is?
I really dont get why more dubstep producers arent making more midtempo, it's probably some of the most fun I have when it comes to producing. Lots of freedom with how you can approach the song writing process and just generally fun to work outside of a set bpm.

— UBUR (@uburdub) April 27, 2020
UBUR:  Thank you for having me!  I've always really enjoyed growl basses and it was a big reason for me to get into producing in general, so I feel like that's a very big aspect to the UBUR sound.  I always try to be creative with them and do my best to get them sounding as distinct as possible too.  It's sort of uncommon now-a-days to hear growls in dubstep tracks aside from the occasional one in a Barely Alive or Space Laces track so I'm happy to sort of keep that sound alive within my own production.
KK:  While we're talking about different bass music genres, you recently played a phenomenal DnB set as a part of the memorial concert for Matt 'Trauma' Griffiths put on by SpachYacht.  With more big-name artists in the dubstep scene starting to embrace DnB publicly, do you think we could see a more even split between DnB and dubstep at American festivals in the future?
Check out my interview with Akeos here, where they said they're working on a full DnB EP.
UBUR: I'm honestly not too sure.  I actually have a couple tracks I'm working on right now that I'll definitely be incorporating into my normal "UBUR" set, so if anything, I'm hoping that audiences will start receiving DNB better incorporated into dubstep act's sets.
KK: Can you give us any updates on that drumstep collab with Excision you premiered at Bass Canyon this past summer?
Y'all ain't ready for this new @Excision x MEEEE @BassCanyon pic.twitter.com/ormZdPwcEg

— UBUR (@uburdub) August 26, 2019
So Im finishing up the @Excision collab to day and Im not going to lie…

It's sounding pretty neat 🙂

— UBUR (@uburdub) May 18, 2020
UBUR: It's all done just waiting for the right time to release it!
KK: Will Kyle be getting a visit post-rona?
UBUR: I love Kyle so much; he is my favorite son.
KK: Now it's time for a massive, industry-shaking callout: who still hasn't played you in Smash that you want to face?
Super Smash Bros. Melee for the Nintendo Gamecube

— UBUR (@uburdub) May 17, 2020
UBUR: I've actually played pretty much everybody in Ultimate, but to be honest, I really don't like playing that game especially since online is ridiculously laggy.  I'm more into Melee in general.  As far as someone I'd love to play a couple games with, it'd have to be Porter Robinson & the Wavedash boys.
KK: Who's your favorite Melee pro to watch?
UBUR: Definitely n0ne.  There's also this REALLY SICK Ganon main named Epic Murloc who's absolutely insane to watch.  He's technically not a pro since he doesn't enter enough [tournaments], but the footage there is of him playing it is incredible to watch his movement options that he does with a traditionally slow character.
KK: If the Welcome to Heck VIP ever gets a release, will the shine sample stay in there?
WELCOME TO HECK VIP W/ @svddendeathdub @lost_lands pic.twitter.com/KS7NFTF2Pw

— UBUR (@uburdub) October 1, 2019
UBUR: Of course.
KK:  The way I found you was through your Welcome to Heck EP via Never Say Die: Black Label in 2017.   You've now completely switched to self-releases.  Can you explain the differences between working with a label and self-releasing a track?
UBUR: It's just a lot easier for me to get my music out that way, plus I keep 100% artistic control over everything including the promotion plan so it's really nice!  I love working with JunkyardLA for the cover art, and it just gets me even more excited to release the track.  I think it's really important to have that sort of excitement with releases so that way your promotional posts come off more genuine rather than some dude who's trying to sell you some product they don't believe in.
KK: What are the crossovers between rowing and DJ'ing?
UBUR: The only major one is being able to wake up at any ungodly hour.  I used to wake up at 5 A.M. every morning when I was rowing, so waking up around that time to catch a flight is intuitive.
KK: What tip would you give to 2014 Max when he started producing?
UBUR: Sidechain at 100%, filtering is your friend, and don't be afraid to really push how loud your sound can go.
KK: Thanks so much for your time!
UBUR: Grease out :3
If UBUR comes through your city, he's not a show you want to miss!
Stream UBUR Here:
Soundcloud: https://soundcloud.com/uburdub
Spotify: https://open.spotify.com/artist/2m8lZUuPm2BLQ2c8gtIAV6?si=QVwonk23RrK39Q2wBzwOmg
Apple Music: https://music.apple.com/us/artist/ubur/1357241559
Beatport: https://www.beatport.com/artist/ubur/696054
YouTube: https://www.youtube.com/channel/UCVsaCplffZd9L6dXCvhA07A
Follow UBUR Here:
Twitter: https://twitter.com/uburdub
Instagram: https://www.instagram.com/uburdub/?hl=en
Facebook: https://www.facebook.com/uburdub/
Header photo courtesy of UBUR. Shot by Jason Fenmore (Oh Dag Yo Photo).
KARSTEN KOHOUT | Keeping you up to date on bass | DJ & Blog Writer at KXSU