Photo courtesy of Austin City Limits
Author: Svetlana Sohoni
Every time I introduce Imogen Heap to a friend I begin with singing "Mmmmm whatcha say," from the Jason Derulo song that was constantly on the radio when I was in elementary school, which sampled from Heap's discography. I grew up listening to her and my dad always referred to her as "an artist's artist." Not the most well known, but widely respected by those in the industry. 
Heap has paved the way for modern pop/electronic music with her synthetic beats, loops, and constant musical innovation at the intersection of music and technology. In addition to working with esteemed musicians like Jeff Beck, her music has been sampled by big artists like Ariana Grande and A$AP Rocky. Her music has also been featured in the scores of films like "Garden State" and television series like "The OC."
Heap's accomplishments in the music industry are impressive and diverse from her independent music as solo artist, to her musical group called Frou Frou. She also created a musical tool called the MiMu gloves which bridges the gap between movement and music, giving off the stunning illusion that Heap is playing music out of thin air. Her innovation resulted in an honorary doctorate from Berklee School of Music. Other notable musical achievements include Heap's composition of the score for "Harry Potter and the Cursed Child," and her creation of children's music after becoming a mother herself. There is so much to discover in her art so here is some guidance from an avid listener!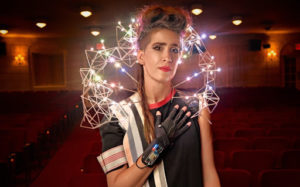 Raised in Essex, Heap was classically trained in the piano, cello, and various other instruments. Having a natural musical ability helped Heap move from playing to composing. Although she began playing classical music, it was not what she was drawn to and this lead to her experimentation in her compositions from a young age.  She explored past the classical realm and began writing and recording as early as twelve. Her formal musical training helped establish her knowledge in theory but it's her natural creativity that directs my attention to her music. Heap knows how to push boundaries in music and prioritized her own artistry over reception from listeners. I have found her loyalty to her own artistry to be one of the main reasons her music has helped trailblaze the path for young artists, especially in pop music.
Heap received some mainstream success with her second record "Speak For Yourself," which was on the charts in both the US and UK. This album is a great place to begin delving into her discography, being home to some classics such as "Hide and Seek" and "Just For Now," as well as some of my personal favorites including "Have You Got It In You" and "Loose Ends." 
Speak for Yourself – Album by Imogen Heap | Spotify
One of my favorite songs of hers is "Speeding Cars," a B-side to her "Goodnight n Go" record. This song beautifully showcases her skill as a lyricist. Her band Frou Frou also has great deal of electronic and pop music to discover. One of my absolute favorite songs from them is "A New Kind of Love," whose demo is available on soundcloud but was never formally released. Other notable Frou Frou songs to check out if you're curious are "Breathe In" and "Let Go."
A New Kind Of Love by Frou Frou
Breathe In – song by Frou Frou | Spotify
I encourage you to watch her Tiny Desk Concert. Heap explains the MiMu gloves she created along with the Glover software while singing "Hide and Seek." She showcases their abilities to control volume, tone, reverb and more with just the smallest movements of her hands. Watching Heap use these for the first time will have you completely entranced. She is a true magician with the gloves and the result is amazing. 
Imogen Heap: NPR Music Tiny Desk Concert
Imogen Heap's music ability knows no boundaries and between her creative mind and extensive instrumental abilities, she has been and continues to be a musical magician and a serious force to be reckoned with!
Svetlana Sohoni | KXSU Arts/Media Reporter