Author: Amanda Taylor
On Sunday, February 19th, Current Joys made one of their final U.S. tour stops at The Crocodile in Seattle! 
A Backstory of Current Joys
Listening to Current Joys' and lead singer-songwriter Nick Rattigan's work is an escape from reality. Rattigan's music is a constructed mix of new wave, indie rock, experimental, and a bit of bedroom pop–all of which are expressed through his scream-itself-hoarse vocals and live-wire sound that dates back to his earliest works. Rattigan's talent and grit are not limited to Current Joys, he can be heard in Surf Curse, a separate duo-band that he is a vocalist and drummer for.
Before starting Current Joys, Rattigan had four solo albums under his belt, one of which  contains one of the band's most popular songs to date, "New Flesh" off of 2013's Wild Heart.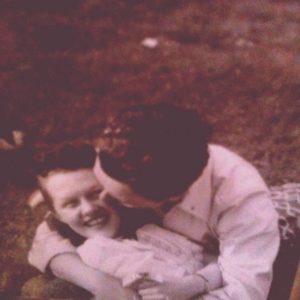 The four albums can now be found under Current Joys' entire discography. Nick Rattigan released his first studio album as a band, Me Oh My Mirror, in 2015, kickstarting what was unknown to be Current Joys' rising career. Following the band's first album release, Current Joys has proceeded to release two albums in three year increments. Their latest release is Voyager in 2021. 
Atmosphere of the Venue
Upon entering The Crocodile, the giant crocodile skeleton that hangs from the ceiling immediately caught my eye.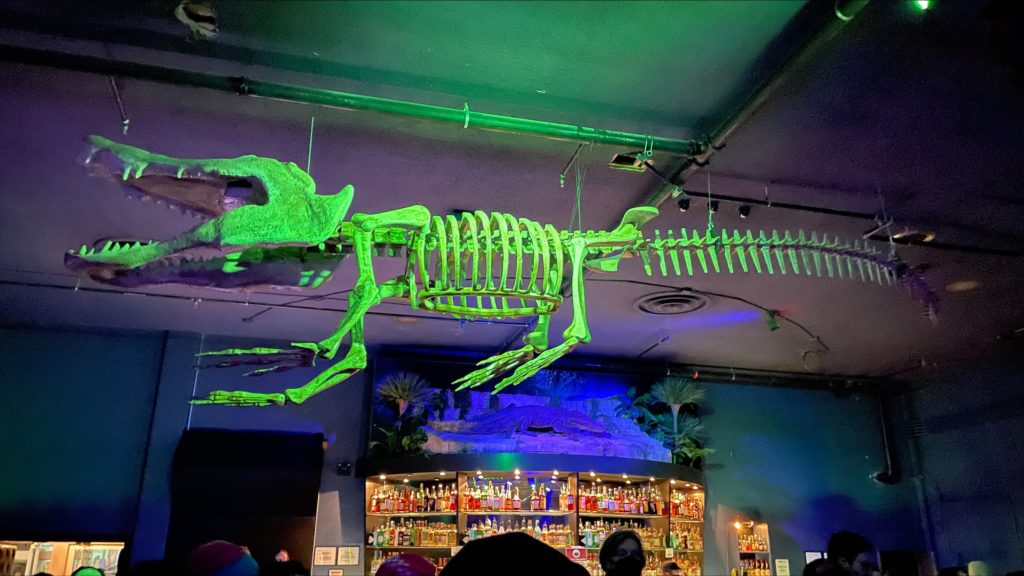 Upon first sight I could definitely make out that the crowd was around the ages of 16-24 and mainly consisted of young adults… besides those standing behind the railed bar area with a drink in hand. Everyone came dressed to impress in their stereotypical Seattle grunge wear, myself included. I lost count of how many flannels and leather jackets I witnessed fellow Current Joys' enthusiasts take off as the room began to warm. 
Opening Act: Dark Tea
LA-based band Dark Tea gave a glamorous start to the night at Seattle's small concert hall, The Crocodile. The band that has just over 4,000 monthly listeners on Spotify performed songs off their self-titled album released in 2021. Dark Tea refers to their new album as "a document of deeply personal, interior reflections, contrasted with the wide-open spaces of an idyllic American soundscape," which is further discussed on the group's Spotify profile. The group of five performed the fan favorite single, "Academy Award," which got the crowd warmed up for their set list.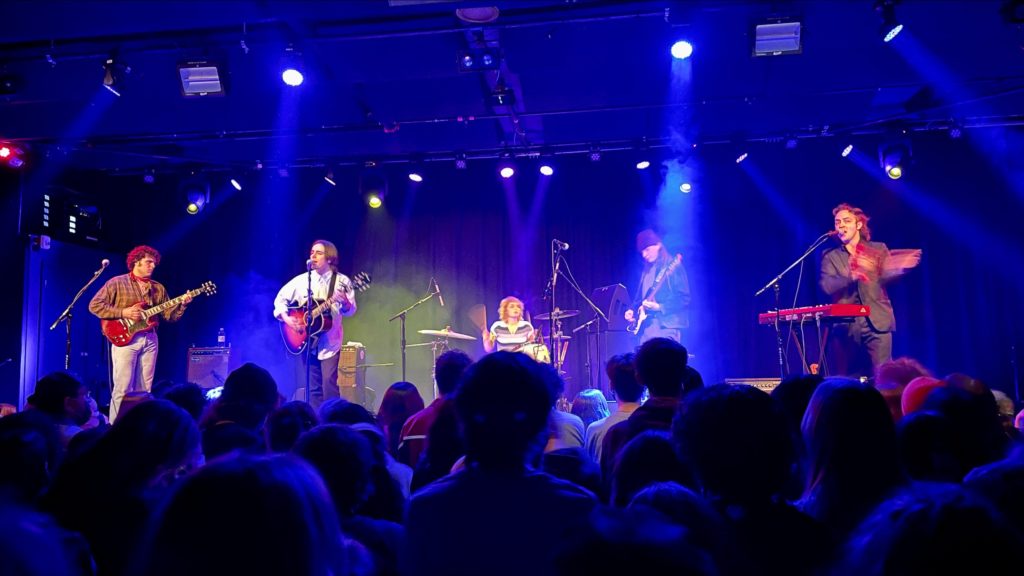 The crowd went wild when Current Joys' Nick Rattigan surprised fans with his early visit on stage to hit the cowbell heard in "Silent Sister." The band gave their Seattle listeners an insight to their blend of indie rock and indie folk and left with a room of new fans.  
Current Joys Performance 
As the venue was nearly packed with anxiously excited bodies, Current Joys walked themselves on stage to be welcomed by a roar from the crowd. The band kickstarted their set by playing "Amateur'' off their album Voyager. The intense vocals from Nick Rattigan and loud guitar from his bandmates got the crowd truly jumping and fired up. The venue cheered and I heard voices surrounding me echo the lyrics verbatim. The small venue was ecstatic and at points moshing around near the front.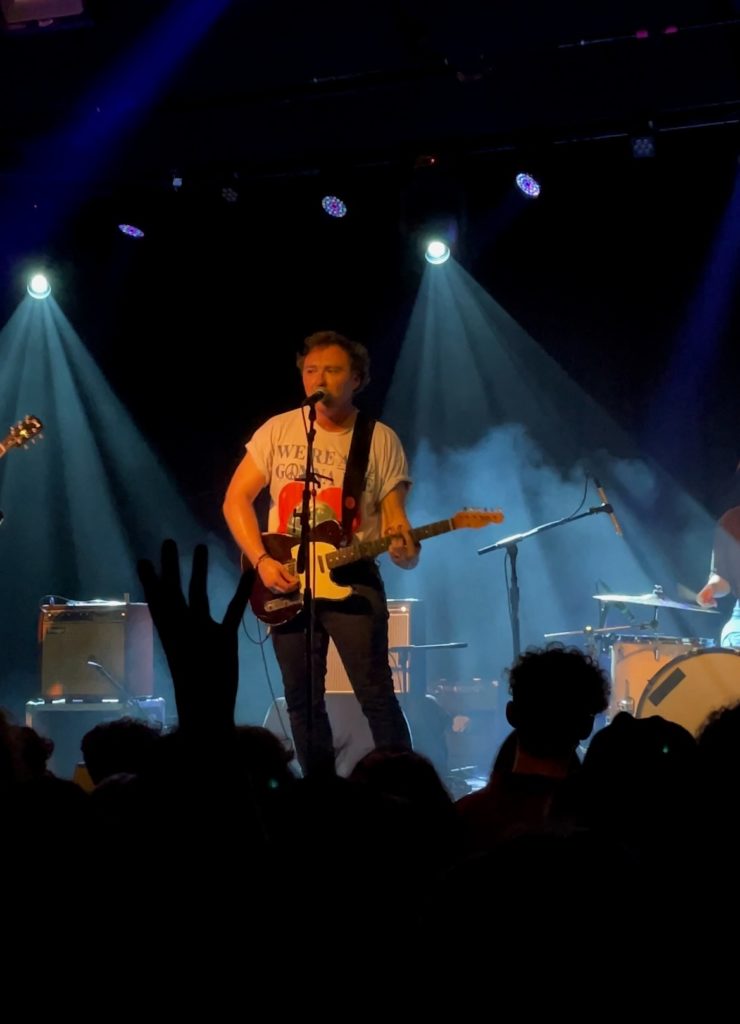 Rattigan wore a shirt that had an earth inside of a red heart that read, "we're all gonna die" in all caps. After the concert I looked up the shirt and found a tie-dyed one selling for $140! 
Nick Rattigan gave a passionate performance through the varying intensity levels of his band's songs. As the band slowed the scene and gave an emotional performance of "American Honey," the surrounding couples quickly grabbed a hold of one another and swayed back and forth. Current Joys of course played some older fan favorites "New Flesh" and "Kids" which the crowd almost synchronously pulled out their phones to record the moment. Rattigan sure knows how to pump up and get an audience fired up!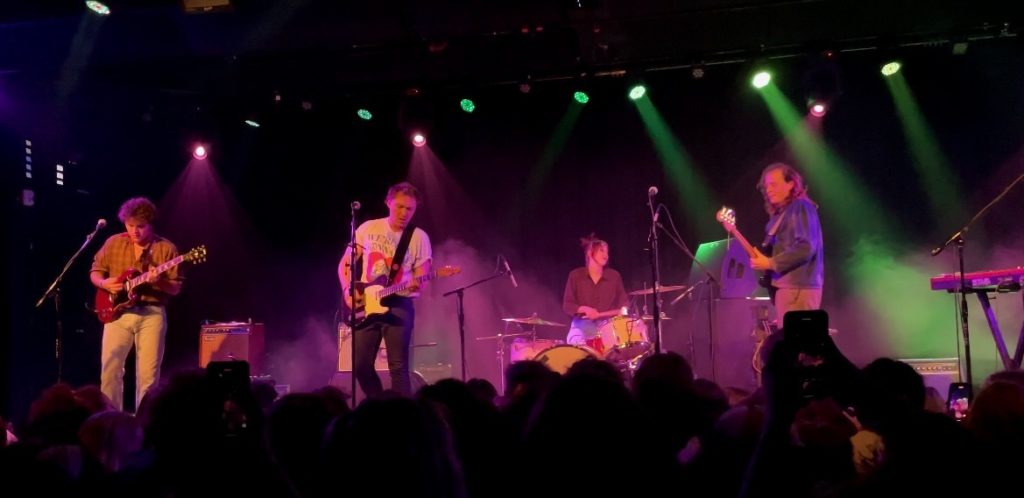 His passionate energy when performing was effortlessly radiated onto the crowd. His voice alone gave my body chills during the performance of "Nervous" which concluded the show. Anyone at the concert could quickly identify that Current Joys are truly authentic with the passion they exhibit as well as how much they genuinely enjoy performing. 
As the audience shoved out of the venue, the adrenaline could be felt on the block as everyone got a very much needed breath of cold air. I left The Crocodile an even bigger Current Joys fan, and Dark Tea left with a new Spotify listener! 
Amanda Taylor | "I'm just a kid, I never use my brain" | KXSU Music & Arts Volunteer Reporter