Author: Christine Campbell
There was a TikTok theme happening a year ago when the vaccines first came out where people posted what was going through their minds as they got their first shot – a montage of what it meant to live to them – family parties, travel, sporting events, friends and concerts. I felt like I was living my own montage on Friday night when I went to see Doug Martsch, lead singer of SubPop's Built To Spill at the Triple Door downtown.
Driving by full restaurants that I didn't know had opened, walking in happy crowds on the rain-wet streets, packing into an elevator in the parking garage with friends and strangers, sitting down for a celebratory birthday dinner for my friend Brian, and the anticipation of an acoustic set with an incredible singer, songwriter musician. We were giddy with being alive.
Martsch didn't disappoint. Playing alone on a small stage with twinkling lights behind him, he took us on a tour of where he's been these last 2 years, holed up in Twin Falls, ID – a nostalgic set of covers and favorites from Built To Spill and his own solo work before he starts touring again with Built To Spill this summer.
A man of few to no words, he sat down while the house lights were still on and started playing a series of covers from the 70s. He began with a slow rendition of the Rolling Stones "Miss You," rolled in to David Bowie's "Ashes to Ashes," and then an acoustic version of Built To Spill's "Reasons" from their 1994 album There's Nothing Wrong With Love. Next up was a cover of Cat Stephens/Yusuf's "Trouble" and then his take on the Beatles' "Long, Long, Long." Martsch wandered into another Built To Spill acoustic "I Would Hurt A Fly" from the 1997 Perfect From Now On album, and then a cover of Eef Barzelay's "Apocalyptic Friend" and John Lennon and Yoko Ono's "Listen, the Snow is Falling." Never introducing any of these songs, he left the audience to listen closely to figure out how we knew each song.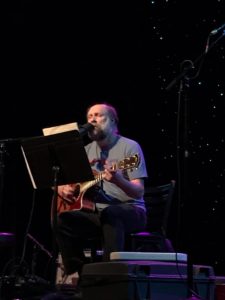 Martsch picked up his slide guitar and played a few of his solo hits, including "Offer," "Dream," and "Heart (Things never shared)" off of Now You Know from 2002. Moving into the 80s and 90s, we went on a nostalgic journey with his renditions of the Violent Femmes "Good Feeling", The Clash's "Straight to Hell" and Lucinda Williams "Fruits of my Labor." After a standing ovation, he closed the set with an enthusiastically received encore of Mazzy Star's "Fade into you."
A highlight of the night for me was his take on Built To Spill hit "The Weather" from Ancient Melodies of the Future from 2001. With his yearning vocals and intimate guitar acoustics, the audience of hungry Built To Spill fans was treated to a few minutes of pure bliss, all of us experiencing our own montage of memories of what the song and lyrics brought back to us.
Do you want it to be outside in the cool night,
Where the stars gravitate toward you?
Do you want it to be outside in the cool night, where
The fog wraps itself around you?
Do you want it to be outside in the sunshine,
Where the clouds take their places for you?
And the wind and snow and the rain that blows,
None of those would matter much without you.
And as long as its talking with you,
Talk of the weather will do…
The pandemic was a fertile time for artists to create. Judging from the number of bands on tour over the next few months, I can't wait for a summer of live music, "outside in the cool night, where the stars gravitate toward you."
Christine Campbell | DJ at KXSU Tuesdays @ 11AM